Welcome to the Flotilla 24-2, District 8ER Web Site
Based out of Guntersville Alabama, Flotilla 24_02 serves the area of the Tennessee River Valley from Guntersville Dam (mile 349) to Romans Light (mile 372.2). We are proud to be located on beautiful Lake Guntersville, and to serve the wonderfully diverse boating community that we share it with. If you are interested in serving your country by volunteering in your community we would love to have you join us.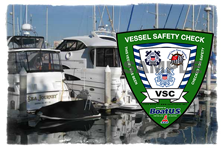 Vessel Safety Checks

One of the most important task for the Coast Guard Auxiliary is engaging the boating public through free Vessel Safety Checks. These examinations are intended solely for promoting boating safety, and nothing that we find will be reported to any law enforcement entity. They usually take a fraction of an hour to complete, and, if you do not pass for any reason, we can come back at your convenience once you have made corrections. If you would like a vessel safety check on any pleasure craft vessel you own (including paddle craft) you can request one online, or contact one of our qualified vessel examiners.

Public Education

We also offer boating safety classes to the public. These classes range from basic skills classes, to child oriented and suddenly in command classes, to more advanced and specific instruction about sailing or power craft. You can find descriptions of each class offered, and find classes near you on our Boating Courses page.

Local Laws and Regulations
While the Coast Guard Auxiliary is not a law enforcement agency, we are frequently asked about the laws concerning boating in Alabama. We have created a list of helpful links to answer many of the most frequently asked questions from the public. You are also welcome to contact us with any questions you may have about boating.

A great place to find the information you need about safe boating.

We invite you to use the links to the left to find more information about Lake Guntersville, our mission, and other helpful links.