Join this Flotilla
Thank you for inquiring about how to become a member of the United States Coast Guard Auxiliary. I
f you are at least seventeen years of age, a citizen of the United States, and have no criminal record, then we would like you to consider our organization.
To receive more information from this flotilla please contact Brad Cochrane (805) 624-9488.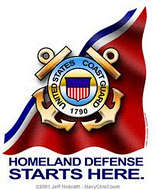 WELCOME!

Thank you for your interest in joining the United States Coast Guard Auxiliary and The Stone's River Flotilla 0821105 in particular. Please take a moment to read this guidance on filling out the necessary paperwork to become a member. There is quite a bit of paperwork involved in the process so please follow the directions here.

All forms should be filled out in black ink, with all signatures in blue ink. We will need the original copy of these forms, you may make a copy for your own records. Please download these forms to you computer so you may fill them out.

First you will need download and fill out the ANSC 7001 Application Form. If you are not prior Military please fill out the first FIVE pages. Prior Military or National Security Clearance holders (within the last ten years) please complete ALL of the application. (You will need to include a copy of your DD 214 with the package) Instructions for this form are in the application itself.
There is a short test to take, please use the answer sheet to mark your answers. This may be done in pencil. References are found in the Student Study Guide and the New Member Handbook.
When all this is completed, please bring with you a copy of your Birth Certificate or Passport, and for prior Military a copy of your DD-214 to our next meeting as posted on this website. If you have any questions please contact the Staff Officer for Human Resources listed on the Flotilla Staff section of this website.
At the meeting we will get a set of fingerprints from you to accompany the application package. All of the forms listed below as well as the test answer sheet will need to be filled out prior to our processing the application package.