Welcome to the Flotilla 8-5, District 8ER Web Site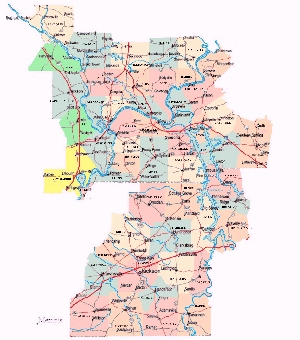 The Flotilla has been serving Kentucky Lake -
Tennessee River since 1971.
The Flotilla was chartered on February 19, 1971. There were 4 other flotillas at that time, so we became number "5". At that time, the western part of Kentucky was part of Division 27, and we were 27-5. Later, Division 27 was disestablished, and then we were placed in Division 22, which was based in the Evansville IN area, and became known as Flotilla 22-5. This was all a part of the Second Coast Guard District, Southern Auxiliary Region, or commonly called 'Second Southern'.





The Eighth Coast Guard District, Commanded by Rear Admiral Pluta, is headquartered in New Orleans, LA. It is a huge Coast Guard District, broken into three Auxiliary Regions. There is Eighth Coastal, Eighth Western and as of January 1998 we are part of Eighth Eastern. Our DIRAUX is CDR. Phillip L. Stephenson, located in Louisville, KY.





We are now part of Division 8, known as the Lower Ohio Valley, which includes western Kentucky, western Tennessee, and south to Memphis. Most of our Members live either in Murray, Kentucky, or in areas west of Kentucky Lake, such as Aurora or Benton.





In 1996-97, our membership increased to include members in the Cadiz, KY area. Then, in October 1997, a new Flotilla was formed, Lake Barkley Flotilla, 87. Some of the present members of that Flotilla were past members of 85.

(Source Shirley T. Joh

nson Past RCO)
Again in 2010, our membership increased to include members of Paris Landing Flotilla, 810.
We provide the following services to the community:
Surface Operations including: Safety Patrols, Regatta Patrols, Aids to Navigation Patrols, Chart Updating, and Search & Rescue.
Vessel Examinations, where specially trained examiners check out your vessel for compliance with Federal and State Regulations with no fear of a citation. The program fosters education not enforcement.
Marine Dealer Visitors, where trained visitors provide a contact between those in the business of dealing with the boating public and to provide them with the latest information to help their customers.
Career Counseling, where qualified students are introduced and guided to information about attending the U.S. Coast Guard Academy (AIM), and young men and women are introduced to how they might have a rewarding career in the U.S. Coast Guard (RAP)