Vessel Safety Check
Get a FREE Vessel Safety Check Courtesy of Flotilla 7-7
Make sure your boat has the required safety equipment to meet Federal, State and Local regulations. Schedule a FREE Vessel Safety Check (VSC). We will check out your boat and discuss any recommended changes or additional equipment you may need and answer any questions you might have about boating in the Three Rivers.
The free VSC is performed at your boat – whether in a slip, at the launch ramp, or even in your driveway – by a certified vessel examiner, at a mutually-convenient time, and usually takes 30 to 45 minutes, depending upon the size of your boat.
What Type of Items Are Checked?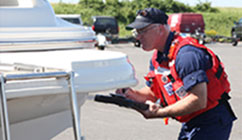 Life Jackets
Registration and numbering
Navigation lights
Ventilation
Fire extinguishers
Distress signals (flares, horn, etc.)
Battery cover and connections
Click Here to Schedule your VSC!
Prior to getting underway, a Float Plan is highly recommended to leave with someone on shore. Though the waters in this area are confined, no body of water should be taken lightly.