FAQ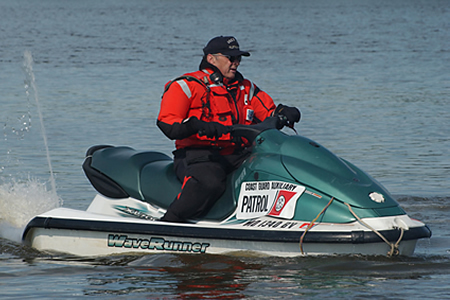 General Questions About the Auxiliary
What is the Coast Guard Auxiliary?
The United States Coast Guard Auxiliary is the uniformed volunteer component of the United States Coast Guard ("USCG") and currently part of Homeland Security. The Auxiliary is authorized to support all USCG missions, other than those related to direct engagement in either law enforcement activities or military combat operations.

Where can I get more online information about the Auxiliary?
Auxiliary Introduction Video

What are the requirements to join?
United States citizenship
Minimum 17 years of age
No criminal background (minor misdemeanors, such as certain traffic violations do not disqualify)
Willingness to participate in boating, aviation, radio communications, or other areas in support of the U.S. Coast Guard
Interest in supporting the aims of the U.S. Coast Guard and the Auxiliary
Where and when do you meet?
Except for special events or circumstances, we meet on the FIRST TUESDAY of each month at 1930 hours (7:30PM) and at the at the McKees Point Marina. Attending a meeting is not mandatory, though, it is the best way to keep up to date with your fellow members.

How much does it cost to join?
Dues vary by flotilla but ours is $32 per year (as of 2016). A small charge may be required by whatever agency you use for the required fingerprint set. In addition, Auxiliarists pay for their own uniforms.

Do I need a uniform?
The uniforms of the United States Coast Guard Auxiliary serve to distinguish Auxiliarists from members of other civilian auxiliaries and of other armed services. Auxiliarists are expected to wear a uniform intended for the situation and mission.

What can I do in the Auxiliary?
There are many, many opportunities to serve effectively in the USCGA. Most Auxiliary training is equivalent to that of the regular Coast Guard. It is rigorous, challenging, and rewarding. One of the most valuable assets we provide to the USCG is that of station watch-standing in which we man the radio for distress and other traffic, take land-line calls, and monitor base security. In addition, we get orders to augment on-water security checks, monitor environmental conditions, confirm aids to navigation, and help protect the public from potential hazards. In addition, we perform free vessel safety checks.