Flotilla Commander
Thom Spagnol currently serves as the Flotilla Commander for 082-07-02. He also serves as the FSO-PA for the flotilla and the SO-PA for Division 07.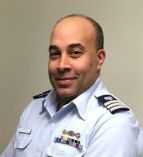 Anthony Waters is the Immediate Past Flotilla Commander for Flotilla 082-07-02 Pittsburgh. He also serves as the current Division Commander and SO-IS for Division 07 as well as the FSO-IS, FSO_DV, and FSO-SR for the flotilla.
The U.S. Coast Guard Auxiliary is a fantastic organization and Flotilla 07-02 is one of the best Flotillas out there. Our flotilla has thousands of hours of volunteer time logged for Operations, Trainings, Public Affairs, Vessel Exams and a host of other activities.