Join USCGA Aux
Join the US Coast Guard Auxiliary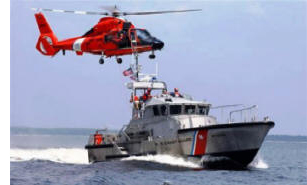 Be part of the action and save lives

-- Since the recreational boating population in the United States is growing rapidly, the Coast Guard Auxiliary needs a few good men and women like you. As an Auxiliarist, you have the opportunity to select and participate in one or more of the Auxiliary's major programs. Either through on- water Operations, the Auxiliary's Public Education Program, Courtesy Examination Program, Radio Watch stander, Coast Guard Recruiting, Marine Environmental Protection or Coast Guard Administration.



Increase your skills

-- The Auxiliary and the Coast Guard provide specialized training on all aspects of boating, as well as leadership and administration. Auxiliarists receive valuable training in seamanship and related skills, and enjoy the sense of confidence of knowing that they are better and safer boaters.



Support the Coast Guard

-- Auxiliarists provide direct operational and administrative support to many local Coast Guard units. You can wear the Coast Guard Auxiliary uniform and become part of Team Coast Guard. When you qualify through training, you can take part in Search and Rescue operations, stand radio watch at the Coast Guard Station, work with the Marine Safety Office on pollution matters or work in the Recruiting Office.



Enjoy fun and fellowship

-- Enjoy fellowship the good company of other Auxiliarists at meetings and training sessions, on patrols and other missions, and at ceremonies and social events. One of the Auxiliary's trademarks is good old-fashioned hospitality. You'll find a special camaraderie among Auxiliarists that's hard to beat.
Who can be a member?
The United States Coast Guard Auxiliary is a civilian organization of volunteers. Membership is open to citizens of the United States, it's territories and possessions, who are 17 years of age and older, and have not been convicted of a felony. Facility ownership (radio station, boat, or aircraft) is desirable but not mandatory.


Those individuals with special training or experience in any Auxiliary program area also are desirable for Auxiliary membership. The same is true for any individual who has specific skills helpful to the organization.


Auxiliary membership is also open to all or former members of any uniformed services and their service components.


Members are people who have an interest in serving the boating community, and their country through the various Missions of the Auxiliary.
What are the benefits of membership?
Service to the Community

-- Particularly since the tragic events of September 11th 2001, Auxiliary personnel have been of great help to the Coast Guard by taking care of many of the non-military/non-law enforcement missions of the Coast Guard. This helps free the Coast Guard to focus more assets on Homeland Security and anti-terrorist activities in addition to their other law enforcement and military missions. Since that day, Coast Guard personnel have been putting in many long days and hours to fulfill their core missions with the added burden of anti-terrorism efforts. This often leaves little time for their personal lives. Auxiliary personnel will often work some of the support functions (such as Radio Watch Stander at shore side Coast Guard facilities), freeing Coast Guard personnel to have time with their families.



Training

-- As a member of the Auxiliary, you have direct access to all Auxiliary Public Education training programs in addition to many U.S. Coast Guard training programs not offered to the general public.



Fellowship

-- This is the heart of the Auxiliary. Our membership is a wonderful group of friends, that have a similar goal. We have a great time promoting boating safety. We want to keep our pristine waters safe and fun for everyone, including ourselves. We enjoy our social activities but the Auxiliary is not a social organization. Rather we are a SERVICE ORGANIZATION providing needed support to the Coast Guard and the Boating Public.
How much time will it take?
That's really up to you. While active participation is expected, how much time you spend on Auxiliary related activities is up to you! There are a variety of classes, social activities, and missions that take time and commitment. Which activities you support or attend depends on your areas of interest and your own personal availability.
How much does it cost to be a member?
Annual Dues vary between Flotilla's, but are generally in the range of $55, you will also need to purchase some uniform items. Your area of interest my incur additional costs for additional required equipment. A minimum uniform will cost you approximately $100, and if you choose to participate in the Boat Crew programs, additional personal equipment costs run another $100 or so.


Many of these expenses are Tax Deductible.
What are the various functions I can get involved in?
There are a large variety of functions that require different skills, experience, and qualifications. These include:


Boat Crew

Coxswain
Member Training
Public Education
Operations
Communications
Vessel Examiners
Member Resources
Aid to Navigation
Public Affairs
Career Counselor
Publications
Finance
Information Systems
Secretary/Records
Recreational Boating Safety
Computer Services



In exchange for all the benefits offered members, the Auxiliary expects the member to active in their chosen mission area.


You are bound to find a place where your skills, experience, and interests can be of service!
Need a location closer to home? Click Here to locate a flotilla near you.
For additional information about membership, please contact our Human Resources officer by email.