Flotilla 4-7 What's New!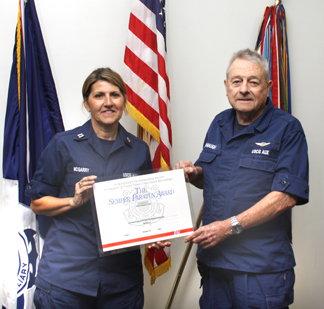 The Regional College Fair was hosted by Grace King High School in Metairie, LA. on Thursday night the eleventh of October. This is an annual event held for the high schools in East Jefferson and Orleans Parish.

It was attended by principals, teachers, counselors, parents, and students. In addition, there were more than sixty universities, industries, and the military represented. Two thousand students were there to gather information about opportunities for after high school graduation. Recruiters from the United States Coast Guard were passing out literature and answering questions.

There were supposed to be two people from the active duty and reserves to help, however, one had to go on emergency leave and the other had duty that night. Darlene McGarry, FC 04-07 was invited to also help. She showed up and received a five minute crash course course in recruiting. We set up the booth with the blue and white Coast Guard drop cloth and spread out the literature.

Then came a surge of students from the junior and senior classes. We sometime had two or three rows of them lined up. This is when Darlene saved the day. She hit the ground running and answered their questions and gave them the correct information. She was such a good recruiter that I wanted to enlist myself.

The Fair lasted for four hours; this was a very successful evening for the U.S. Coast Guard. Flotilla 04-07's meeting at USCG Station New Orleans presented a special award which read:
"In Recognition of Outstanding Service in Support of United States Coast Guard Recruiting"
THE SEMPER PARATUS AWARD is Presented TO: Darlene McGarry, FC 04-07

Thank you Darlene for making this recruiting program a success.

Howard V. Kavanaugh, SO-MS
Academy Admissions Partner
U.S. Coast Guard Recruiter (with badge)