Member information
Patrols and Training at Cochiti Lake
Coxswains Dave and Carolyn McCandless aboard their facility Polywog, Coxswain Mike Trodoux, Boat Crew Susan Trodoux and Boat Crew Trainee Janice Convery.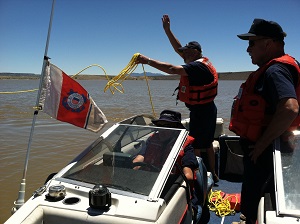 Our members are from all different career paths, there is no requirement that members be former military or government service; we all share a love of water recreation and have a desire to contribute to public safety.
The following is a short synopsis of Coast Guard Auxiliary responsibilities and results.
Congress established the USCG Aux on June 23, 1939, as the United States Coast Guard Reserve. On February 19, 1941, it was re-designated the United States Coast Guard Auxiliary. The Auxiliary exists to support all USCG missions except roles that require "direct" law enforcement or military engagement. Collectively the Auxiliary contributes over 4.5 million hours of service each year and completed nearly 500,000 missions in service to support the Coast Guard. Every year Auxiliarists help save approximately 500 lives, assist 15,000 distressed boaters, conduct over 150,000 safety examinations of recreational vessels, and provide boater safety instruction to over 500,000 students. (Excerpt taken from Wikipedia).