Information about our Members and local events
Joe St. Cyr Remembered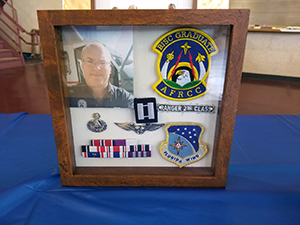 Joe's Civil Air Patrol awards.
On August 18th we remembered a shipmate that recently crossed the bar! We sadly but fondly remembered Joseph St. Cyr who passed away on June 30th.
Joe had been an active member of our Flotilla since 2004.
Joe was also very active in the Civil Air Patrol where he earned his wings. He
was also a Certified Florida Emergency Medical Technician and the Executive
Director of the Florida Airboat SAR. Joe was an Instructor and Evaluator for
the National Association of Search and Rescue for SARTech III, II and NPLI.


The service was held at the Salvation Army Church in Daytona
Beach. The Honor Guard and Chaplin where provided by the Civil Air Patrol. In
attendance besides his shipmates from Flotilla 17-11 and members of the Civil
Air where many K9 SAR teams from around the State. The CAP Cadets did their
Captain Joe proud! One of the highlights of the service was when all the K9
teams came in and took their place in the audience. It was amazing to have
about 50 dogs in the gym where the service was held and see how well they
behaved. They also had the K9s give Joe a salute by having them all bark.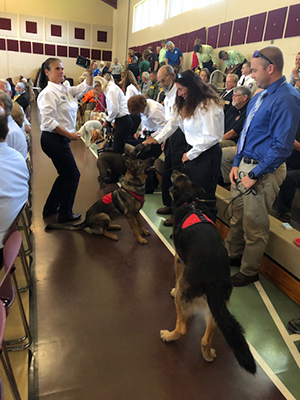 The K9s give their salute.
It was wonderful to see how the life of this one selfless
person had such a positive effect on so many people who also serve others.
Joe is survived by his Wife Whitney Hartz and K9s Mojito,
Kamora, Duke, Styx, and Stones.

Rest in Peace Shipmate your watch is over and from what was seen yesterday you inspired many folks to take over and keep the watch!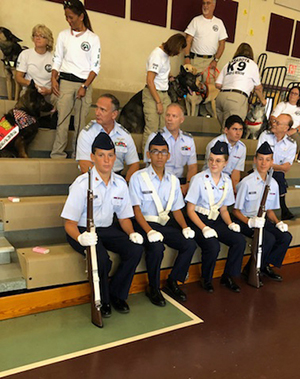 The Honor Guard from the Civil Air Patrol. They did their Captain Joe Proud! A Bravo Zulu!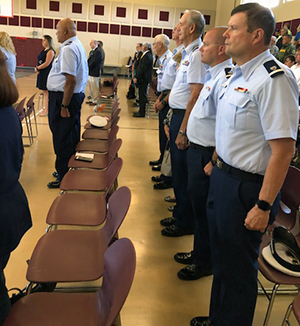 Flotilla 17-11 members at attention.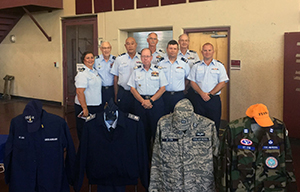 Our Flotilla crew after the service.
Photos by Joseph Bonaccourse, Jamey McKinley and Maria Motes
We said goodbye to Auxiliarist Bryan Perely.
---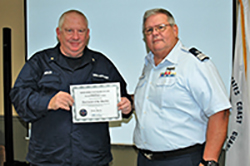 In Memoriam of a good
friend and dedicated U.S. Coast Guard Auxiliarist who "Crossed the Bar". Bryan
Perley was a dedicated Auxiliary member who was always there to offer his smile
and support to our many activities. He was also a great teller of yarns who
was a friend to everyone he met.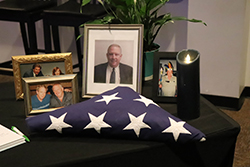 "Crossing the Bar" is a term we use in the Auxiliary
The term is taken from a poem by Lord Alfred Tennyson as meaning to cross the
"sandbar" between the tide or river of life, with its outgoing "flood," and the
ocean that lies beyond death, the "boundless deep," to which we return. The
"Pilot" being God.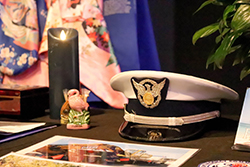 Bryan will be deeply missed!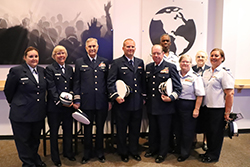 I had the honor of attending his memorial along with my colleagues of 17-11
from Bryan's Flotilla.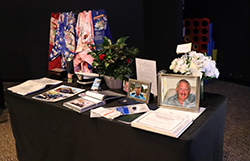 Words by Joseph Bonoccourse
Images by Amanda McKinley and Sharon Breece.