Information about our Members and local events
Flotilla 17-11 Change Of Watch

On Saturday December 16, 2017 Flotilla 17-11 had its Change of Watch ceremony. The purpose of the Change of Watch is to install the newly elected officers and to recognize the hard work and effort of the outgoing officers.
The ceremony is patterned after the Coast Guard's formal time-honored Change of Watch ceremony.
We would like to say thank you to Richard Danner the outgoing Flotilla Commander for his efforts and welcome his Former Vice Flotilla Commander Ema Scott as the new Flotilla Commander! We also welcome the New Vice Flotilla Commander Maria Motes.

Many thanks to all the outgoing Flotilla Staff Officers and a welcome to all the new ones. 2018 looks to be a great year for our flotilla!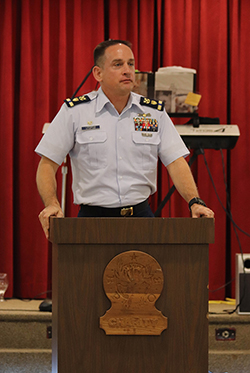 Commander of Coast Guard Station Port Canaveral addresses Flotilla 17-11.
Flotilla 17-11 Honor Guard.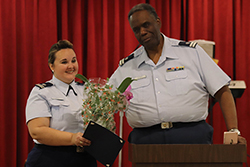 The outgoing FC congratulates the incoming FC.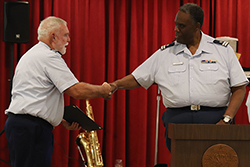 Outgoing FC Danner congratulating FSO FN Carl Motes.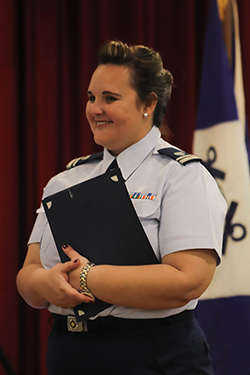 Our new Flotilla Commander Ema Scott.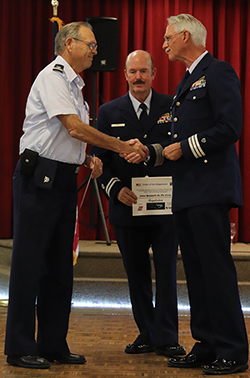 Division Commander John Holmes congratulating FSO IS Fred Bahr
while FSO OP John Bennett looks on.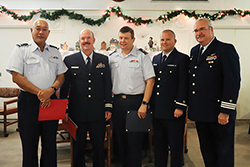 A reunion of former boat crew trainees (they are now crew members) with their mentors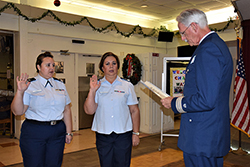 Division Commander Holmes swears in FC Scott and VFC Motes.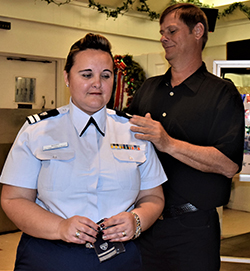 New FC Scott receives her new shoulder boards.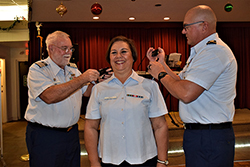 New VFC Motes receives her new shoulder boards.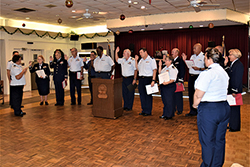 The swearing in of the new Flotilla Staff Officers.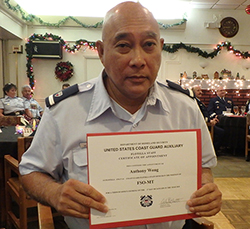 FSO MT Tony Wong with his certificate of appointment.
Photo Credits Sharon Breece, Amanda McKinley and Tony Wong