Boat Safety Scholarship
Below is the form link you may complete to request a Boating Safety Class Scholarship. The scholarship is for local students, ages 14 to 18 to attend the next BS&S class with the Big Pine Key Flotilla 13-03. The deadline for application is one week prior to the start of the class. Click on "Public Boating Courses" on the left to find the next class.
Please submit by email or contact us:
Diane Adam (305) 872-4071

Bob Eichholtz (305) 872-7505

To access the application please click on the link below.
DEADLINE FOR SUBMISSION IS ONE WEEK PRIOR TO THE START OF CLASS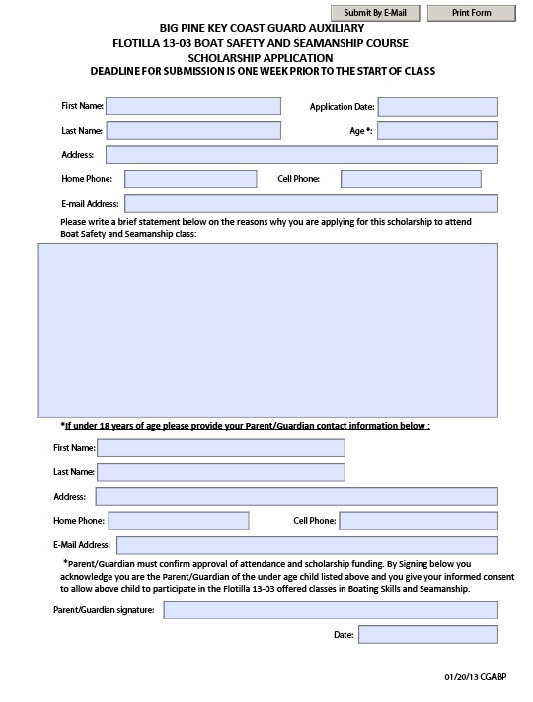 You may also use your iPhone or Andriod smartphone to access and complete this form by utilizing the APP's

EZPDF READER
for Android | 4.8MB (paid App)
or
Type on PDF free (free app with advertising)
for iPhone, iPad, iPod
or
ezPDF Reader: PDF Reader, Annotator & Form Filler Version 1.91 (paid App)
for iPhone | 27.0MB

Viewing and editing PDFs without a computer or tablet is sometimes a difficult proposition. With ezPDF Reader from Unidocs, you can not only highlight and write on PDFs using your Android smartphone, but fill out PDF forms, as well. The app lets you view PDFs in portrait or landscape orientation; zoom in on portions of PDFs to get a better look; and access photos, videos, and other embedded media all from inside the app. You can also download the ezPDF Reader Cloud Plugin to upload and download Google Docs files.