2017 and 2018 Clearwater Boating Safety Course Schedule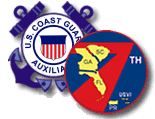 About Boating Safely classes are held at:

Cheek-Powell Heart & Vascular Pavilion
455 Pinellas St.
Clearwater, FL 33756

Contact: Kathy Lloyd, Flotilla Staff Officer - Public Education
Phone: (727) 469-8895
Email: auxboatingclass@gmail.com
Class Schedule and Registration Link
When signing up for a class please include in the email to the Flotilla Staff Officer for Public Education your First and Last Name, Address, Phone Number, Email Address, Course Name and Dates course is offered. Materials are included in the cost of the programs. There is no cancellation fee.
Class Date

Class Title /
Class Times

1 Student
w/ Book

Oct 14 & 15, 2017




Weekend Program

Boating Safety (2 mornings)
8:00am - 1:00pm

Cost $35

Nov 11 & 12, 2017



Boating Safety (2 mornings)
8:00am - 1:00pm

​Cost $35

Dec 09 & 10, 2017



Boating Safety (2 mornings)
8:00am - 1:00pm

​Cost $35

Jan 13 & 14, 2018



Boating Safety (2 mornings)
8:00am - 1:00pm

​Cost $35

Weekend Program


Boating Safety (2 mornings)
8:00am - 1:00pm

​Cost $35


Boating Safety (2 mornings)


​Cost $35

Boating Safety (2 mornings)

​Cost $35

Boating Safety (2 mornings)

​Cost $35

Boating Safety (2 mornings)

​Cost $35

Boating Safety (2 mornings)

​Cost $35

Boating Safety (2 mornings)

​Cost $35

Boating Safety (2 mornings)

​Cost $35