News Release
March 16, 2018

Contact: Russ
Eisenhardt
Vice Flotilla Commander
Public Affairs Officer
(678) 778-0656
russeisenhardt@gmail.com


http://cgaux.org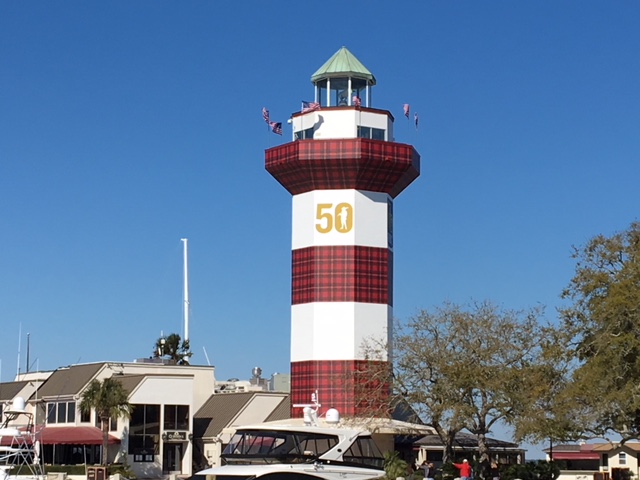 News Release
---
Coast Guard Appreciation Day, Grand Opening of Coast Guard Museum Exhibit Will Highlight a Great Day at Harbour Town Sunday


Harbour Town Lighthouse dressed in Tartan Plaid for the upcoming RBC Heritage Classic PGA Golf Tournament is home to the new, one of a kind, US Coast Guard Museum that opens at 11AM Sunday.
***Click here to listen to the interview with Flotilla Commander John Handfield and DBC Radio on 3/11.
March 16, 2018 – The active duty Coast Guard is being thanked for their services Sunday at Harbour Town Lighthouse with both a grand day-long fun event and a grand opening of the first museum exhibit expressly dedicated to the Coast Guardsmen and their missions. It is hoped that as many members of the public as possible will attend and participate in this special "Appreciation Day" event.
Hilton Head Coast Guard Auxiliary Flotilla #070-10-11 and the Sea Pines Resort are marking the Grand Opening of the Harbour Town Lighthouse Coast Guard Exhibit with a daylong party with a live music concert, tours of the Lighthouse, Children's Activities, an Antique Car Display and a sidewalk sale marking the resorts traditional "Spring Fest" celebration.
Activities begin at 11AM, Sunday with a full day of fun and excitement:
Sidewalk Sale: 11AM – 6PM
· Coast Guard Museum Exhibit Grand Opening at the Lighthouse: 11AM – 6PM (Ribbon Cutting at 12:30PM)
· Antique Car Display: Noon – 4PM
· Deas Guyz Outdoor Concert: 1PM – 4PM
· Children's Activities: 1PM – 4PM
· Dignitaries Remarks: 2:30PM, Main Stage featuring:
o Captain John Reed, Coast Guard Sector Charleston
o Captain Marshall Branch, Commander of Coast Guard Air Station Savannah
o Commander Norm Witt, Commander Marine Safety Unit Savannah
o Keith E. Kucera, BMCS Coast Guard Station Tybee
The highlight of the day will be the Grand Opening of the Coast Guard Museum Exhibit inside Harbour Town Lighthouse – a first in the nation display. The Lighthouse will be open from 11AM through 6PM, with a ribbon-cutting ceremony scheduled for 12:30PM. Members of Hilton Head Flotilla #070-10-11 of the Coast Guard Auxiliary have spent the last 3 years collecting photographs, clippings, memorabilia, and artifacts of the various Coast Guard Missions to fill two complete levels of the Lighthouse.
The public is invited to participate in the daylong celebration honoring the active duty Coast Guard and their mission to protect life and property in the Lowcountry. The Auxiliary and Sea Pines Resort are combining to invite as many active duty Coastguardsmen to present to be honored and thanked by the public for their service.
---
The Coast Guard Auxiliary is the uniformed civilian component of the U.S. Coast Guard and supports the Coast Guard in nearly all mission areas. The Auxiliary was created by Congress in 1939. For more information, please visit

www.cgaux.org

.