Flotilla 10-11 What's New!

Standardized Flotilla Standing Rules

8
8.19 An annual financial report for the preceding year must be prepared no
later than 31January, and one must also be prepared upon the election of
a new Flotilla Commander or appointment of a new Finance Officer. The
Finance Officer must submit the financial report on Form ANSC #7025,
"Financial Report of an Auxiliary Unit", to the Director of Auxiliary with
copy to the District Commodore and Division Commander.

ARTICLE IX CONTRACTS

9.1 All licenses and agreements for the use of real property as well as
contracts for the expenditure of Flotilla funds as may be authorized by a
vote of the Flotilla, shall be first approved by the District Staff Office-Legal
and then shall be signed by the Flotilla Commander. Copies of all signed
contracts shall be retained by the District Staff Officer-Legal.

ARTICLE X COMMITTEES

10.1 Standing committees and special committees consisting of any number of
members may be appointed by the Flotilla Commander. The Flotilla
Commander shall designate the chairperson of each such committee
appointed and outline the objectives to be accomplished unless otherwise
prescribed. Individuals may be appointed as a one-person committee if
desired.

10.2 The Flotilla Commander shall appoint an Audit Committee at or before the
regular meeting of the Flotilla in the month of _________________each
year. The committee shall examine and audit the financial books and
records of the Flotilla Finance Officer and the Materials Officer for the
preceding year and shall report their findings at the next regular meeting
of the Flotilla.

10.3 The Flotilla Commander shall appoint a Budget Committee at or before
the regular meeting of the Flotilla in the month of January of each year.
This committee shall prepare a budget with the assistance of the Flotilla
Finance Officer and the Flotilla Materials Officer and submit said budget to
the Flotilla for approval within 3 months.

10.4 The Flotilla Commander is empowered to appoint an Awards Committee
to review and make recommendations to the Flotilla for the recognition of
individuals and groups for special recognition by the Flotilla, Division,
District or the United States Coast Guard.

10.5 The Flotilla Commander is empowered to appoint a Past Commanders
Committee composed of all past Flotilla Commanders and past Vice
Flotilla Commanders who are active. The chairperson shall be the
Immediate Past Flotilla Commander if active and available. If unavailable
or unwilling to serve, the Flotilla Commander shall appoint any other past
December

Standardized Flotilla Standing Rules

9
Flotilla Commander as chairperson. The primary duty of this committee
shall be to consider all auxiliary matters that are referred to it by the Flotilla
Commander and all matters that are of interest to the Flotilla. The
committee shall make written recommendations concerning such matters
directly to the Flotilla Commander.

10.6 The Flotilla Commander shall be an ex-officio member of all committees.

ARTICLE XI PROCEDURE FOR RELIEF OF OFFICERS

11.1 It will be the duty of each elected and appointed officer, at the end of the
term of office, to deliver to the successor, all current materials, supplies
and records pertaining to the office. The officer being relieved shall assist
in ensuring an orderly transfer of the administrative function of the office,
including but not limited to the briefing of the successor on the procedures
to be followed and the forms to be completed and submitted.

ARTICLE XII AWARDS

12.1 It is the policy of the Flotilla to give or pursue recognition of members who
through contributions of valuable time and special effort further the
purpose and spirit of Auxiliary missions and programs. Recommendations
for awards for these special efforts can be made by any member to the
Flotilla Commander or such higher level at any time as prescribed by the
Manual.

ARTICLE XIII AMENDMENTS

13.1 These Standing Rules may not be amended except to conform verbatim to
changes directed by the Commandant of the United States Coast Guard
or the National Board, provided however, optional and elective provisions
may be amended in conformity with the Manual.

ARTICLE XIV APPENDICES

14.1 Appendices to these Standing Rules may be adopted by a 2/3 majority
vote of the Flotilla and are effective upon signature of the Flotilla
Commander. The appendices should include matters local in nature
including, but not limited to dates, times and location of meetings,
amounts and due dates for collection of membership dues, information
regarding local awards, number, title and composition of committees not
otherwise designated and similar events.






Standardized Flotilla Standing Rules

10
ARTICLE XV APPROVAL

These Standing Rules were adopted on the ______ day of______________,
20_____ by two-thirds (2/3) of all Flotilla members and become effective upon
approval by the Director of Auxiliary.



Signed: ______________________ Date _________________
Flotilla Commander




Approved: ____________________ Date _________________
Division Commander




Approved: ____________________ Date _________________
District Staff Officer-Legal




Approved: ____________________ Date _________________
District Commodore




Approved:____________________ Date__________
Flotilla 10-11 has launched its newsletter HIGH TIDE
Each issue has been distributed to all current members via email. Please contact John Handfield if you did not receive a copy of if you have any questions or comments.
A link to an image of page one of the current issue is below.

Flotilla 10-11 –Public Affairs Plan update
As of: February 13, 2017

The one central purpose of this Public Affairs Plan is to promote the USCG Auxiliary and the Flotilla. The Objectives are to increase Vessel Exams and Public Education classes. This list of public events will not only put the Auxiliary in the public's eye, but help spread knowledge of what we provide to boating community.
For these events to be successful, we will need the membership to wrap their arms around each event and participate as much as possible.
Here are our Meeting Dates for the balance of 2017.

MEETING DATES: SPECIAL EVENTS:
March 8, 2017 Mangiamo restaurant
April 1, 2017 HH Palmetto Elect.
April 24, 2017 Pot Luck w/ Spouses
May 6, 2017 HH Palmetto Elec.
June 3, 2017 HH Palmetto Elec.
July 1, 2017 HH Palmetto Elec.
August 5, 2017 HH Palmetto Elec.
September 12, 2017 Mangiamo restaurant
October 7, 2017 HH Palmetto Elec.
October TBD, 2017 Special event w/spouses
November 4, 2017 HH Palmetto Elec. (ELECTIONS)
December 2, 2017 Mangiamo restaurant (some holiday surprises)
John G. Rivers
Commander, USCG Air Station Savannah
Speaker at Yacht Club of Hilton Head Island
March 10, 2015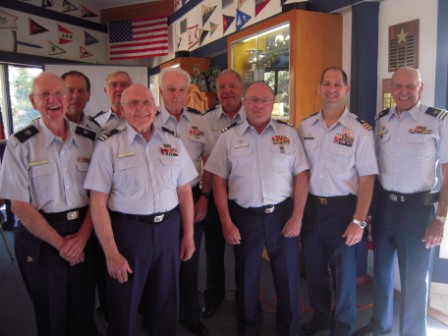 Attendees left to right: Hank Parker, Tom Holland, Jim Landis, Jim Shepard, Ivan Bush, Jack Esser, Hal Blaisdell, Cmdr Rivers, Don Robbins
Recognizing 50 Years of Dedicated Service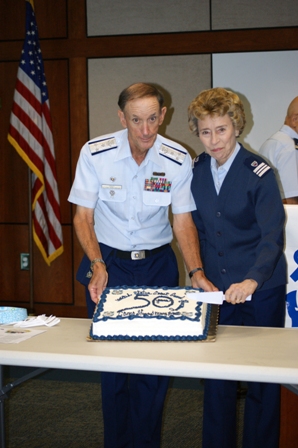 Husband and Wife Team serving 50 Years of Dedicated Service to the United States Coast Guard Auxiliary

Commodore Henry G. and Mary B. Pratt

Membership in the US Coast Guard Auxiliary for Commodore and Mrs. Pratt began on September 9, 1964. Like so many other members the
journey began with a safe boating class taken in Washington, DC, at the US Commerce auditorium along with about 300 other boating enthusiasts. They currently live in Sea Pines on Hilton Head Island, SC. They have been members of Flotilla 070-10-11 since 1990 when they transferred from the 5th District.

Commodore Pratt has served in various staff and all elected offices at the four levels of the Auxiliary organization. He was the National Commodore in 1989 -1990 and served on the former Horizon Committee/Long Range Planning Committee for 12 years when it was dissolved. He was on the Coast Guard Auxiliary Association Board of Directors for six years and has been a board member of the United Safe Boating Institute, the BOAT/US National Advisory Council, the Coast Guard Reserve Policy Board and is currently a member of the Coast Guard Uniform Board.

He is an AUXOP, coxswain qualified and to this day is still involved in on the water operations almost every week. At this time he is the Division 10 Staff Officer for Operations, working closely with Sector Charleston, MSU Savannah, Coast Guard Air Station Savannah and Coast Guard Station Tybee.

As an example of his dedication to carrying out his duties as Operations Officer for Division 10 with accuracy and dedication, you only have to look back to the afternoon of July 16, 2006. Within one hour of receiving a phone call from Coast Guard Sector Charleston requesting assistance in closing the Savannah River and the Intracoastal Waterway due to the oil
spill, the USCG Auxiliary Division 10 Operations Officer, Henry Pratt, had the Auxiliary's Hilton Head & Savannah flotillas underway to assist. They secured the Intracoastal Waterway entrance on both sides of the Savannah River and allowed no boats into those waters until the spill was secured. This patrol lasted for over 24 hours and involved a number of assets from the flotillas. Working with the FSO-OP's of both flotillas, he coordinated the mission to ensure the river was secured day and night.

In another incident he and Mary were on vacation in 2008 when he received a call from MSU Savannah that the Dixie Crystal sugar refinery on the Savannah River had caught fire and the MSU was requesting assistance in the area. From Florida he was able to coordinate a response by Division 10 flotillas for the next several days until the Coast Guard no longer needed assistance from the Auxiliary.

Commodore Pratt has been the recipient of various individual and team Coast Guard and Auxiliary awards and recognitions including two USCG Public Service Awards, several USCG Meritorious Commendations with "O" device, several Auxiliary Commendation Medals, the Auxiliary Achievement Medal and in 2003 was awarded the USCG Meritorious Service Award in recognition of his service from 1993 to 2003.

In his avocation - golf - he has served on the board and as president of the Senior Men's Golf Association of Hilton Head Island and is presently the chairman of Hilton Head Island Inter-Club Golf Association. In addition to serving on the Sea Pines Country Club Board of Directors he was chairman of the Golf Committee and Green Committee. He has also supported the local PGA golf tournament on Hilton Head for over 25 years and for more than 15 years he has been the starter on the first tee.

Commodore Henry G. Pratt III was born in 1940 in Washington, D.C., and resided for most of the next 50 years in Arlington, Virginia. He met his future wife, the former Mary Buchanan, in college and they were married in 1963. They have one son, daughter-in-law and one grandson.

Commodore Pratt received a BA degree in economics from Emory & Henry College in 1963 and completed two years of graduate study in business administration at George Washington University. He is a graduate of the American Institute of Banking and of the Virginia-Maryland School of Bank Management at the University of Virginia. His career was in branch bank management with a bank which evolved into what is now Wells Fargo Bank.

Commodore Pratt served in the US Army as an infantry officer with assignments in the United States and South Korea during which time he earned two US Army Commendation Medals.

While residing in Arlington, VA (District 5), Mary served in various flotilla and division staff positions and was SO-SR 14 for eight years and DSO-SR 5 for six years. Mary and Henry attended the National Vessel Examiner School in Alaska and worked as a VE team for 18 years. She also participated in operations with her husband for a number of years. During the years of his climb up the elected ladder, she was Commodore Pratt's secretary and did all of his correspondence. In those days all correspondence was typed hard copy and mailed. Mary also served from 1989-1992 as the administrative secretary for two national commodores.

Mary is the recipient of the Coast Guard Auxiliary Commendation Medal.

Following their move to District 7, Mary has held flotilla and division staff positions and is currently SO-MA 10.

Mary was born in 1940 in Bristol, Virginia. She received a BA degree from Emory and Henry College in 1963.

Like Henry, Mary likes to play golf and has served for 28 years as a volunteer walking scorer for the annual PGA Heritage golf tournament on Hilton Head.