Join the Auxiliary
WHY JOIN THE AUXILIARY?
The Auxiliary is charged with three primary missions: "public education" in the classroom teaching water
safety and basic boating and sailing skills; "safety patrols" on the water to assist distressed boaters; free "vessel safety checks" in your hometown.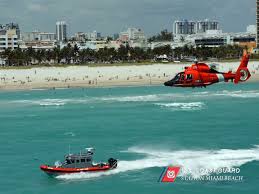 Air Station Miami photo
The Public Education Mission teach Boating Skills and Boating Safety Programs to
the public. These programs have gained an excellent national reputation. Many
of our graduates can even receive insurance discounts upon completion.
To fulfill the Safety and Rescue Mission, the Auxiliary runs on-the-water patrols
staffed by "crew certified" civilians trained and equipped to deal with
emergencies, such as fires, towing, and other assistance to pleasure boaters in
distress. The Auxiliary also has qualified volunteer Pilots and Air Observers
to aid in Coast Guard search and rescue activities.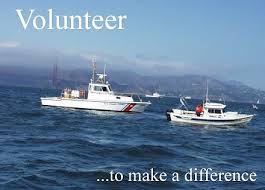 Auxiliary recruitment
One of the Auxiliary's trademarks is good old-fashioned hospitality. Friends, neighbors and interested members of the public are always welcome to attend one of our flotilla meetings. In addition, you will find a special camaraderie among Auxiliarists that is hard to beat. Along with our missions we find time to relax and have fun at Auxiliary outings, training sessions, patrols, CME's, classes, and conferences. Auxiliarists make lasting, meaningful friendships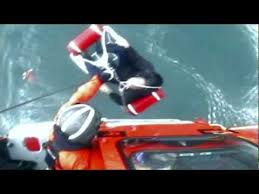 Auxiliarist Surface operations training- Air Station Miami
Coast Guard Auxiliary members are not paid for their time, service, uniforms, or equipment. Volunteers spend many hours training, learning, practicing and qualifying prior to working in these specialty areas. Auxiliarists are not only trained, but are also very committed to this community service organization.
Attention Ex-Military/Retired Military
- Your nation still needs you. The U.S. Coast Guard Auxiliary assists the Coast Guard in non-military and non-law enforcement programs such as public education, vessel safety checks, safety patrols, search and rescue, maritime security and environmental protection. Wear the Auxiliary uniform with pride and your military ribbons. Criminal background check and membership are required.
New Boat?
- Learn more about boating and boating safety from the U.S. Coast Guard Auxiliary. Unpaid, volunteers are needed to help teach boating safety to the recreational boating public. Criminal background check and membership are required.
Volunteer Vessel Examiners Wanted -
Volunteers are needed in the U.S. Coast Guard Auxiliary as vessel examiners to help local recreational boaters be safe on the water by conducting free vessel safety checks of boats.
Public Education Instructors Wanted
Volunteers are needed in the U.S. Coast Guard Auxiliary to help teach boating safety classes to the recreational boating public.


Flotilla 54 would like to thank all of the members who dedicate their time and resources to provide their community with these valuable services. Anyone 17 years or older and interested in learning more about this group should contact the Flotilla at 561-389-1850 or e-mail us at uscgaux58@comcast.net.

Contact us via Facebook