Welcome to the Flotilla 5-6, District 7 Web Site
Welcome to Flotilla 56
Sebastian - Vero Beach, Florida
Contact E-Mail: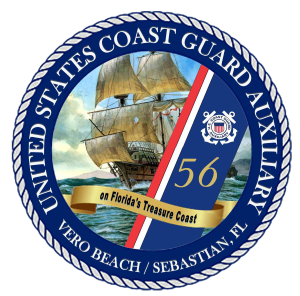 Serving The Treasure Coast from Sebastian to Fort Pierce
First organized during World War II, in Vero Beach, Florida, as the civilian defense "eyes and ears" of the US Coast Guard station in Fort Pierce, Florida, USCG Auxiliary Flotilla 56 still proudly stands ready to serve the communities of the 7th District, 5th Division of the United States Coast Guard.

It is our mission to promote boating Safety and education to the communities of Sebastian, Vero Beach and Indian River County.
We achieve success in this mission through public programs about Boating Safety, Navigation and Seamanship, free Vessel Safety Checks and regular safety patrols on the waters of Indian River and the beaches of the Treasure Coast.

We welcome your visit to our site and invite you to come and join us in our service and our fellowship.
Meeting Schedules
Monthly Breakfast - June 6, 2018 at 8:30 AM
(CJ Cannons, VB Airport 3414 Cherokee Dr, Vero Beach, FL 32960)
General Monthly Meeting June 19, 2018 at 6:00 PM
Dinner and Meeting
(C.J. Cannon's 3414 Cherokee Dr, Vero Beach, FL 32960)
Flotilla 56 is proud to augment and support
the men and women of the
United States Coast Guard Station
Ft. Pierce, Florida
About Boating Safely
Flotilla 56 Public Education Courses
Flotilla 56 will be offering the class to the public on the last Saturday of each month through November (No Classes in December).

Each class has a seating limit of 30 students. Pre-registration is encouraged to reserve your place. To preregister go to the PayPal Registration below and select About Boating Safely for the date you plan on attending. Remember to include your contact information (Name(s) of those attending, a phone number and email address).

This beginner boating class will give you the knowledge needed to obtain a boat license or safety certification in many states.

NEXT CLASS - June 30, 2018

Capt Hiram's Resort - 1580 US-1, Sebastian, FL 32958
---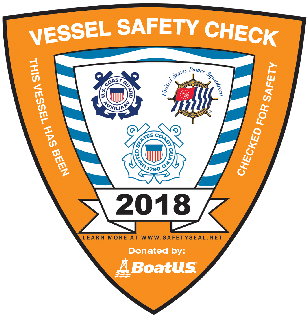 Vessel Safety Check
A courtesy examination of your boat (Vessel) to verify the presence and condition of the Safety Equipment required by State and Federal regulations.
US Coast Guard Auxiliary Examiners
Trained specialist that will make recommendations and discuss safety issues that will make you a safer boater.
To schedule an examination please e-mail your name and a contact number to: