Newsletters & Info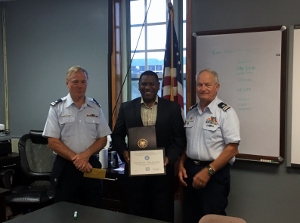 From left to right: Edward Cave, VC; Stan Harrison, State Farm Ins.; Walt Franek, FC
In 2017 Stan Harrison began sponsoring an annual fishing program for local children and invited the U.S. Coast Guard and U.S. Coast Guard Auxiliary to make a presentation on water safety and demonstrate the proper use of Life Jackets.
In 2016 the Coast Guard counted 4,463 accidents that involved 701 deaths, 2,903 injuries and approximately $49 million dollars of damage to property as a result of recreational boating accidents. Where cause of death was known, 80% of fatal boating accident victims drowned. Of those drowning victims with reported life jacket usage, 83% were NOT wearing life jackets.
In 2016 he became a U.S. Coast Guard Auxiliary Program Partner and began promoting boating safety and life jacket usage.
We are proud to consider you a program Partner and wish to thank Stan for outstanding cooperation and assistance in furthering the purposes and principles of the U.S. Coast Guard Auxiliary
Stan Harrison of State Farm Insurance was awarded an Honorable Recognition during the May U.S. Coast Guard Auxiliary Flotilla 48 meeting.