That Grand Old Flag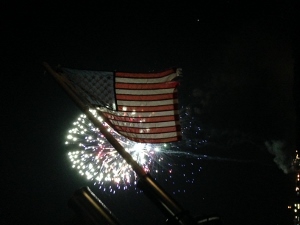 THAT GRAND OLD FLAG
On July 4, 2018 boat CREW members of Flotilla 48 were under orders to participate in the celebration of America's 242 birthday on the water in New Smyrna Beach. The mission was to establish a 500 yard perimeter safety zone around a barge used to set off a 30 minute fireworks display.
We had a full CREW who volunteered for the mission and their families were invited to participate in a cookout very near the fireworks display so they kind of spent the evening together though slightly separated during the fireworks.
One CREW member, FSO Jill Sussenberger, was assigned the task of taking "bunch" of photos in hopes of capturing a special image for the Flotilla Web-Site. It was an absolutely beautiful evening with family and friends on the shore line and members of the active duty USCG, NSB PD, FWC and VC Sheriff's patrols also in the area.
After the barge was secured and the patrol terminated Jill scanned the photos she had taken and this special image popped up. Appears that a slight wind caught the facility ensign at the right moment with fireworks as a backdrop. Though slightly worn and a little tattered the "Grand Old Flag" makes a beautiful image.