Division 2 Welcome
Division 2, District 7, USCG Auxiliary
John Sprague-Williams


Division Commander

conchs@bellsouth.net ... H: 706-923-1507; C: 706-473-1013

James D. McMenamin


Division Vice Commander
Our area of responsibility can be seen on the map of this website's home page.

Division 2 consists of six flotillas which serve much of Georgia and parts of South Carolina.
Since 1939, the Coast Guard Auxiliary has been an integral part of Team Coast Guard, supporting the varied missions of Team Coast guard. Because of the contributions of this volunteer civilian organization, America's waterways are safer. According to the Office of the Chief Director of the Auxiliary, the following is:
An Average Day in the Coast Guard Auxiliary
Completes 62.5 safety patrols
Completes 6.2 regatta patrols
Performs 10.2 vessel assists
Assists 28 people
Saves 1 life
Saves $341,290 in property
Participates in 100 operational support missions
Participates in 48.7 administrative support missions
Completes 13.4 recruiting support misisons
Educates 369 people on boating safety
Performs 299 vessel safety checks
Attends 70 public affairs functions
Division 2 members donate thousands of hours in support of Coast Guard in performing Search and Rescue, Public Education classes, Vessel Safety Checks, Website creation and maintenance, Newsletter publication, Public Affairs Missions, and Marine Safety and Environmental Protection activities. We also coordinate efforts with the U.S. Corps of Engineers especially as it pertains to aids to navigation on the lakes that we serve.
We are actively seeking new members to assist us in performing our missions, many of which have the additional benefit of supporting the Coast Guard in its Homeland Security mandate.
Each flotilla's web site will provide detailed information on Auxiliary missions, locations, and operations in their respective areas of operation.
All flotillas are dedicated to the
Four Cornerstones of the Auxiliary
Member Services
Recreational Boating Safety
Coast Guard and State Support
Fellowship

To assist you in finding the flotilla that serves your area, please refer to the map on the "home" page; visit the Flotilla Finder on our National Web Site; or go to this sites "Flotillas" page.

We are Semper Paratus - Always Ready!

John Sprague-Williams
Division 2 Commander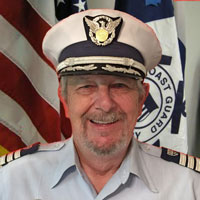 Membership Opportunities

Team Coast Guard is composed of an active-duty force of 35,000 men and women, augmented by the 8,000-member Coast Guard Reserve, the 30,000-strong all-volunteer Coast Guard Auxiliary, and a civilian workforce of 5,500.

We are constantly looking for qualified members. United States citizens 17 years of age and older without a felony conviction are welcome to join us.

Members are eligible to receive the world's finest on-the-water training. Courses are offered in Navigation, Seamanship, Communications, Weather, Patrols, and Search & Rescue. Other optional benefits include the Coast Guard Credit Union, access to Coast Guard Exchanges, and insurance coverage. The pride of wearing the Auxiliary uniform is amplified by the Auxiliary awards system. Your efforts will be recognized and rewarded.

As a member you will have the opportunity to:

Be part of the action & help save lives. Since the recreational boating population in the United States is growing rapidly, the Coast Guard Auxiliary needs a few good men and women like you. As an Auxiliarist, you will have the opportunity to select and participate in one or more of the Auxiliary's major programs. If you feel strongly about the rewards you can get from serving your community, the Coast Guard Auxiliary is the right place for you! Either through on- water Operations, the Auxiliary's Public Education Program, Vessel Safety Check Program, Radio Watchstander, Coast Guard Recruiting, Marine Environmental Protection or Coast Guard Administration.


Increase your skills. The Auxiliary and the Coast Guard provide specialized training on all aspects of boating, as well as leadership and administration. Auxiliarists receive valuable training in seamanship and related skills, and enjoy the sense of confidence of knowing that they are better and safer boaters.
Support the Coast Guard. Auxiliarists provide direct operational and administrative support to many local Coast Guard units. You can wear the Coast Guard Auxiliary uniform and become part of Team Coast Guard. When you qualify through training, you can take part in Search and Rescue operations, stand radio watch at the Coast Guard Station, work with the Marine Safety Office on pollution matters or work in the Recruiting Office.


Service to your community. Auxiliarists aren't paid with money, but with satisfaction. We furnish and maintain our own equipment and can choose to participate at a level tailored to our individual capabilities. We provide boating safety classes for youth and adults and examine recreational vessels for safety equipment to ensure that our neighbors will be safe on the waterways.


Enjoy fun and fellowship. In all activities, enjoy fellowship -- the good company of other Auxiliarists at meetings and training sessions, on patrols and other missions, and at ceremonies and social events. One of he Auxiliary's trademarks is good old-fashioned hospitality. Friends, neighbors and interested members of the public are always welcome to attend one of our flotilla meetings. In addition, dedication to boating safety provides the atmosphere for getting together to swap boating experiences and participate in cruises and rendezvous. You'll find a special camaraderie among Auxiliarists that's hard to beat. There's time to relax and have fun at Auxiliary outings, training sessions, patrols, VSCs, classes, and conferences. Auxiliarists make lasting, meaningful friendships. Knowing that you belong to a special group of people and directly participate in helping save lives gives your Auxiliary membership a special meaning.


Opportunities

We have numerous opportunities for members to become involved in all aspects of boating:

Public Education - Teach courses on boating safety, navigation, and seamanship to recreational boaters of all ages.
Vessel Safety Checks - Give free safety checks to recreational and commercial fishing vessels.
Operations - Provide boaters with helpful information and emergency assistance.
Partnerships - Help develop partnerships with boat dealers and other interested parties by supplying information about safety and recalls.


Fun & Fellowship

Our dedication to boating safety provides a congenial atmosphere for getting together to exchange boating experiences. You'll find a special camaraderie among Auxiliarists. We're sure you will make long lasting, meaningful relationships.

Knowing that you belong to a special group of people and directly participate in helping to save lives gives your membership a special meaning.