Vessel Safety Checks
The U.S. Coast Guard Auxiliary has certified vessel examiners who will perform a free vessel safety check of your boat, at a time that is of mutual convenience. This could be at a marina, boat ramp, or even in your driveway. There is no charge, and there are no consequences if you don't pass. Our goal is simply to help make boating as safe as possible for you, your family, and your friends.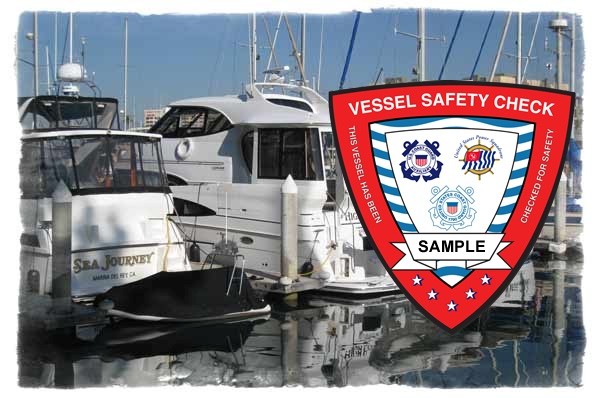 Vessels passing safety checks are awarded a U.S. Coast Guard Auxiliary decal that informs the U.S. Coast Guard, harbor patrols, sheriff's departments, and other law enforcement agencies that your boat was in full compliance with all Federal and State boating laws during a check for that year.
If your boat does not pass, no citations will be issued. Instead, the examiner will provide you a written report that explains what you need to do to correct the discrepancies.
In many cases, boating insurance agencies offer discounts for vessels that undergo a vessel safety check every year.
Find an Examiner
Are you ready to get started on your path to safer boating? Click the link below, then fill out the short request form and click Submit. We will locate the closest volunteer vessel examiner in your area and request that they contact you and set up a vessel safety check for your boat.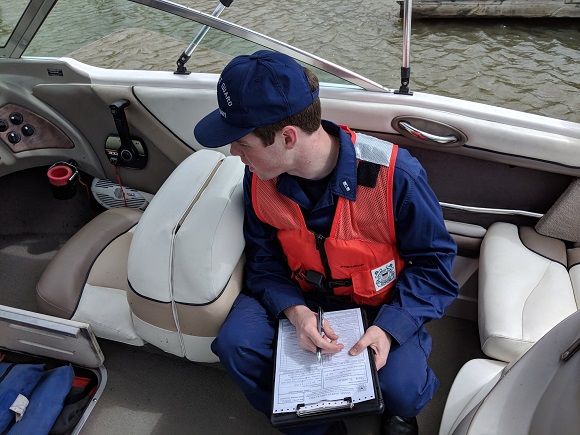 Vice Flotilla Commander Chad Crowley performs a vessel safety check in Arlington, VA. Photo by Flotilla Staff Officer Dan Dunham.