Local Marine Information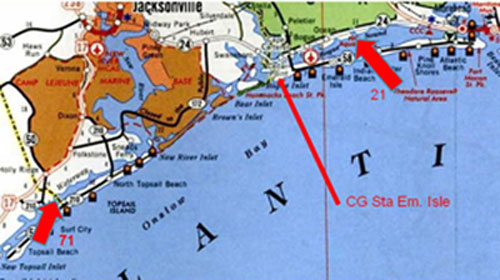 We patrol the Intracoastal Waterway several times a week during boating season from buoy 21 in Bogue Sound to buoy 71 in Stump Sound. This includes Bogue Inlet, the waterways that feed the Intracoastal Waterway and up to twenty miles offshore.

The boating waters in our Flotilla's area of operation are distinguished by a tide of roughly three feet and hundreds of acres of shallow water less than a foot deep at low tide. Tidal flows can exceed five knots. Staying in navigable channels is essential for safe boating.

Inlets can be challenging when winds and tidal flows are against each other. Boats not designed for inlet transit can cause safety issues when conditions that were marginal when going out have deteriorated to dangerous when it is time to return.
Langston

Bridge to Emerald Isle




White Oak River




Towing on Intracoastal Waterway



NOTICE/DISCLAIMER: Links to non-Coast Guard entities are not under the control of the United States Coast Guard or the United States Coast Guard Auxiliary, and are provided for the convenience of our customers. They do not, in any way, constitute an endorsement of the linked pages or any commercial or private issues or products presented there. We cannot make any warranty or representation concerning the content of these sites, or secondary sites from the pages to which they link.