Come Join Us!
Are You Ready to Answer the Call?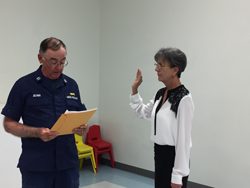 Why Join?
If you are looking for some new adventures in your life, consider joining the U.S. Coast Guard Auxiliary.

Wherever your interests lie, and whatever life skills you have, chances are that the Coast Guard Auxiliary can offer you an area to serve that will enrich your life in ways you may not have imagined.

The Auxiliary offers you a unique opportunity to make a real difference in your local community and across the country.

We're 30,000 civilian volunteers--just like you--who are an integral part of the U.S. Coast Guard and assist by teaching recreational boating safety, doing vessel safety checks, engage in joint training with the Coast Guard on the water, attend local public affairs events to provide safe boating information to the public, patrol local waters, and much more.

We offer you free training in many areas such as boat crew and coxswain on the water and in classes, leadership and management, food service, public affairs, vessel safety examiner training, and more.
Benefits of Joining:

As an Auxiliarist, you will enjoy camaraderie and friendship. Along with our missions we find time to relax and have fun at Auxiliary outings, training sessions, patrols, classes, and conferences. Auxiliarists make lasting, meaningful friendships.

As an Auxiliarist, you'll earn new skills - with free training in classroom, online, and on the water.

As an Auxiliarist, you'll be able to wear the Auxiliary uniforms which is identical to that of the Coast Guard, except ours are blue and silver, rather than blue and gold.
As an Auxiliarist, you will support the Coast Guard's mission to promote boating safey by interacting with your local community through a number of safety programs.

As an Auxiliarist, you are eligible to earn a number of Coast Guard Auxiliary awards and devices as well as attend high-level professional Coast Guard training to expand your knowledge and advance your skills.
For additional benefits such as shopping at base exchanges, tax deductions, ability to join the Coast Guard Federal Union, see Guardian Benefits.