Welcome to the Flotilla 20-10, District 5SR Web Site
Ahoy from Flotilla 20-10 - Swansboro, North Carolina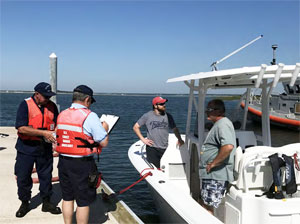 Auxiliarists performing a free Vessel Safety Check
Who We Are

Welcome to Flotilla 20-10 in Swansboro, N.C., on the Intracoastal Waterway in southeastern North Carolina. We're civilian volunteers, like you from our local community and are an integral part of the U.S. Coast Guard.

The Coast Guard Auxiliary has more than 30,000 members in all fifty states and territories. Thus, we nearly double the strength and reach of the Coast Guard.
Our primary mission is boating safety helping recreational boaters avoid accidents and injuries on the water.

Boating Classes - Register for a beginning or advanced Boating Class to learn more or to hone your advanced boating skills.
Free Vessel Safety Checks - Be ready for emergencies on the water. Schedule a free Vessel Safety Check for your boat, kayak, or canoe today at your house, dock, or marina.

Boating Safety Information - Be safe on the water! Here you'll find information on how to be prepared for emergencies and local information about float plans, marine weather forecasts, tide tables and charts.
Join Us - Become a member and use your skills and learn new ones while help your community, the Coast Guard and your country. You'll receive free classroom and on-the-water training
Contact Us - Get in touch with us by phone, email or attend one of our monthly meetings. We meet at 7:00 p.m. the second Tuesday of each month at the Western Park Community Center; 275 Old Hwy 58; Cedar Point, North Carolina.
| | | |
| --- | --- | --- |
| | | |
| Lizzie K on patrol | Vessel safety check on the water | Teaching a class at the Station |
National Commodore's Official Policy
It is the policy of the United States Coast Guard Auxiliary to ensure that all citizens, regardless of race, gender, color, national origin, sexual orientation, gender identity and expression, age, religion, or physical or mental disability have an equal opportunity to become a volunteer of this organization. It is after all, part of our mission to become the volunteer organization of choice.