Coast Guard Support Activities
In his Auxiliary Policy, The Commandant of The United States Coast Guard states in part that "The Auxiliary is a force multiplier of vetted and trained volunteers devoted to the support of Coast Guard missions and provides a broad inventory of vital skills, assets, and experience for our units across the nation. As the leading volunteer organization in the Department of Homeland Security, it is an essential component of our daily operations and an effective resource primed to prevent and respond to catastrophes in the maritime region."


Flotilla 20-04, like over 36,600 other Auxiliarists nationwide, assist the Coast Guard in all non-law enforcement programs such as public education, vessel safety checks, safety patrols, search and rescue, promoting and improving boating safety. Additionally members provide direct support to local Coast Guard stations working side-by-side with active duty Coast Guard members helping to multiply CG effectiveness. This is possible since Auxiliarists are provided training virtually identical to that of active duty CG personnel.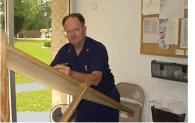 A sampling of New Bern Flotilla members' direct support activities include:
• Watch standing at CG Stations Hobucken, Fort Macon and Emerald Isle.
• Serving as crew members and cooking meals on CG vessels to supplement active duty personnel.
• Assisting CG personnel in environmental protection responsibilities.
• Providing orientation tours of our local waters to newly assigned Coast Guard personnel.
• Checking Aids to Navigation (buoys, day markers, etc.) after storms and reporting problems to the Coast Guard.
• Assisting CG personnel in repair and maintenance of Aids to Navigation.
• Providing administrative support at stations to free active duty personnel from routine chores.

Be part of the action and increase your skills. For more information about joining the New Bern Flotilla of the US Coast Guard Auxiliary click on About Flotilla 20-4 in the left menu above, then either call us or send us an email. Alternatively, go to Join Us Now! in the top menu for more information and contact us through the Web. We look forward to welcoming you to the Auxiliary!