On The Water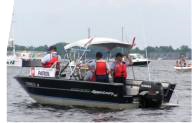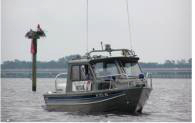 ---
Many of the on-the-water or underway activities of the Auxiliary are loosely grouped by the Coast Guard and the Auxiliary as
Operational
activities. These are part of the non-law enforcement activities that the Coast Guard Auxiliary carries out to support the Coast Guard on the waters of the United States.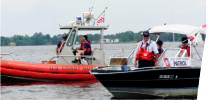 Auxiliary operational activities are carried out in specially equipped, privately owned power boats and sailboats. Auxiliary members who become qualified to serve on these boats as coxswain or crew carry out assigned underway activities under Coast Guard orders.
---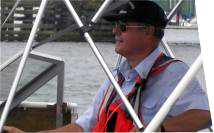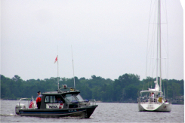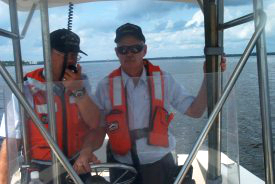 These specially-equipped vessels, manned by qualified auxiliarists are designated as Auxiliary facilities and are used to carry out activities including:

• Conducting safety patrols that provide assistance to boaters in distress.

• Performing search and rescue missions.

• Providing perimeter security for regattas and other marine events.

• Support transport missions (personnel and supplies) during natural disasters.

• Verification of Aids to Navigation and ATON checks after severe storms.

• Pollution and environmental patrols to check waterways, ramps and related problems.

Flotilla 20-04 conducts these underway activities in our area of operation which includes sections of the Neuse and Trent Rivers. When underway Flotilla facilities maintain contact with Flotilla land- based VHF radio facilities. The training and qualification process for crew and coxswains is an ongoing process with every patrol providing training opportunities for our members. New Bern Flotilla members spent over 90 days as volunteers each year carrying out these activities.