Welcome to the Flotilla 20-3, District 5SR Web Site
Greetings from Flotilla 20-03 in Oriental, NC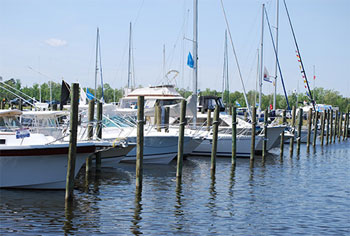 Oriental Town Marina on the Lower Neuse River
Who We Are
We're Flotilla 20-03 in Oriental, North Carolina also known as the "Sailing Capital of North Carolina". We're the all-volunteer, uniformed component of the Coast Guard. We are civilians, just like you, from our community and our primary mission is to promote local recreational boating safety. We work closely with Coast Guard Station-Hobucken and patrol the Lower Neuse River, the western Pamlico Sound, the Bay and eastern Pamlico Rivers.

What We Offer You
Free Vessel Safety Checks - Be safe on the water. Get a free vessel safety check today for your boat. We'll come to your home or marina and perform a safety check for you.
Boating Courses - Hone your boating skills.Sign up for an introductory or advanced boating class.

Boating Safety Information - Be prepared for emergencies with local information about float plans, marine weather forecasts, tide tables and charts.

Join Us - Become a member and use your skills and learn new ones while helping protect your community, the Coast Guard and your country. You'll receive free classroom and on-the-water training.

National Commodore's Official Policy
It is the policy of the United States Coast Guard Auxiliary to ensure that all citizens, regardless of race, gender, color, national origin, sexual orientation, gender identity and expression, age, religion, or physical or mental disability have an equal opportunity to become a volunteer of this organization. It is after all, part of our mission to become the volunteer organization of choice.