Vessel Safety Checks
Vessel Safety Checks




•What is a Vessel Safety Check?

A Vessel Safety Check is a courtesy examination of your boat (Vessel) to verify the presence and condition of certain Safety Equipment required by State and the Federal regulations. The Vessel Examiner is a trained specialist and is a member of the United States Power Squadrons or the US Coast Guard Auxiliary. They will also make certain recommendations and discuss certain safety issues that will make you a safer boater.

•Where can a get a Vessel Safety Examination? (VSC)

Throughout the boating season, the Coast Guard Auxiliary and the United States Power Squadrons hold announced VSC sessions at area marinas.

If you were not able to attend one of these, you have additional options as many qualified Auxiliarists carry the VSC forms and decals with them while on patrol.

You could arrange for an examination while on the water, or call the local Auxiliary Detachment to make an appointment for a visit.
540-721-3237
Smith Mountain Lake - Flotilla 81
Click Here For Free
Vessel Safety Check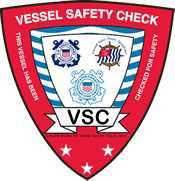 What items are checked for a VSC?

(click on the VSC decal above to view the Vessel Checklist)

The purpose of the VSC is to be certain all the required safety equipment is on board the vessel and is operational

Items such as PFD's (Life Vests) are checked to be sure there aren't any tears or holes in them. They also should be readily available and not still wrapped in plastic.

If your vessel is 16 feet or longer, navigational lights are required.

A sound producing device and Visual Distress Signals are also required - Did you know an old music CD makes an excellent mirror/signaling device?

Listed is just a just a sample of the required equipment. It is recommended to have a current copy of your State's Boating Laws and Regulations (and Federal - if applicable) on board for reference.

What do I do if I have a Kayak, Canoe, or Stand Up Paddleboard?

The Coast Guard Auxiliary can also inspect these. Contact us to schedule an inspection.

Click here for our Paddlesports Information page
Click here to view a list of items we check for a Paddlesports Inspection