Vessel Safety Check
Flotilla 66 conducts free Vessel Safety Checks (VSCs) year-round. Special VSC days are scheduled at local marinas and dealers. Auxillarists will also provide VSC at other locations at the request of a vessel owner.

Our inspections are solely to enhance the safety of the boating public. The exams typically include items that may exceed the local, state and federal mandated requirements, but they are based on years of USCG experience and are intended to provide boaters with a safe and enjoyable experience on the water.

Auxiliarists have no law enforcement authority so any findings are recommendations only; results are not given to any law enforcement agencies. If your boat passes the exam, a decal is displayed on your boat to show others your interest in safe boating.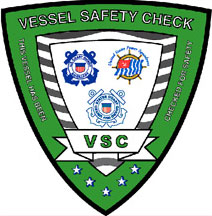 Click the link below to request a VSC.
Submit your information and a member will be in touch.
Click here to request a Vessel Safety Check
What will the VSC officer look for?
Click here to participate in a "Virtual" VSC