Vessel Safety Exam
Vessel Safety Inspections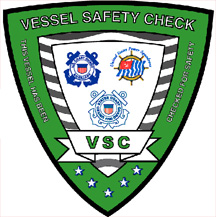 Flotilla 53 is proud to have a plethora of well qualified Vessel Safety Inspectors on our roster, including the District's leading Inspector with over 180 inspections per year. Inspections are free and are not required by law, however, your insurance company may provide a discount on your premium with proof of a safety inspection conducted by the Coast Guard Auxiliary and are good for one year, just like your vehicle state inspection sticker. Jet Skis, Skidoos, row boats and canoes, kayaks and other Personal Water Craft can be inspected for safety as well.
To schedule an inspection, contact our
Flotilla Commander
(757) 536-5184,Vessel Examination officer or one of our inspectors on the Officers page. A searchable guide for VE's is located
here.
Boating Safety Classes
Educating boaters makes the day on the water more fun and safe for everyone. Flotilla 53 offers a day long About Boating Safely seminar the last Saturday of the month March through September. The interactive class led by our experienced instructors will cover navigation rules, equipment, safety, trailering and protecting your boat, and much more! Please contact our Flotilla Commander, Vice Commander or Public Education Staff Officer to enroll in a class.
As of July 1, 2010 all PWC operators (Jet Skis, etc) under 50 years of age and all motor boat operators under 20 years of age must have a valid certificate from a recognized boating safety course.
By July 1, 2016 all PWC and motor boat operators must have a valid certificate of course completion. Again, we are here to serve you.