Welcome to the Flotilla 18-6, District 5NR Web Site
Cherry Hill – Farragut Flotilla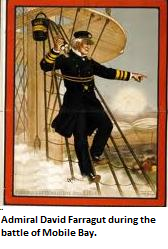 Welcome to the Home Page of Cherry Hill –Farragut Flotilla, a unit of the United States Coast Guard Auxiliary. Cherry Hill – Farragut Flotilla meets every 2nd Monday at the Cherry Hill, NJ Main Library on Kings Highway, North. Meetings start promptly at 7 PM and end before 9 PM. Visitors are welcome at all our meetings, you don't have to be a member to attend but you have to be at least 17 and a US Citizen to join.
The Coast Guard Auxiliary was established by Congress in 1939 and is a vital part of the Coast Guard, contributing over 2 million hours a year to Coast Guard Missions. These missions include sea and air patrols for Safety, Security, Pollution and Response, and integrated participation for mass casualty and other disasters. But our primary mission is Recreational Boating Safety with classroom education programs, as well as free vessel safety exams and workshops. We train to accomplish all the above, and our training and qualifications in many cases equals that of active duty Coast Guard members. In fact, members are eligible to attend some of the same training that regular Coast Guard receives at government expense.
As you browse our website, picture yourself as a crewmember patrolling the Delaware river and assisting boaters, or flying in an Auxiliary airplane on ice and pollution patrol, or even serving as the chef aboard a Coast Guard cutter (yes, we do have a program called AUXCHEF where members are trained to cook meals for regular Coast Guard crews.) As a member of the Auxiliary you are only limited to your imagination and desire…except we don't directly participate in the Coast Guard Law Enforcement missions.
I hope to see you at our next meeting. Joseph Perchetti, Flotilla Commander (Acting)