Welcome to the Flotilla 12-1, District 5NR Web Site
Welcome to Flotilla 12-01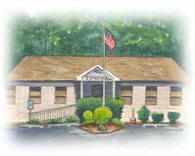 Please join us at a Flotilla meeting at the South Bethany Town Hall, 402 Evergreen Road, South Bethany, DE 19930. Meetings start at 7 p.m. (1900 hrs) on the third Thursday of each month except December. We are the southernmost Flotilla in the Fifth District Northern Region, and celebrated our 60th anniversary in 2016. The annual Change of Watch luncheon or dinner takes place on the second Saturday of December at a restaurant in the Bethany Beach area.
We always welcome visitors and prospective members. U.S. citizens age 17 and older can join, and you do not need to own a boat or have boating experience. Annual dues are modest, and you can get as much free training and participate in as many events as your schedule permits. Please join us at a meeting or contact one of the Flotilla officers listed at the "About Flotilla 12-01" link for information.

Click here for the Flotilla 12-01 facebook page!