Welcome to the Flotilla 1-9, District 5NR Web Site
Our Mission
Posted by: Brian Lazarow
Flotilla 053-01-09 - New Castle
Separation Day 2016
Mission of flotilla 053-01-09
To promote and improve Recreational Boating Safety
To provide trained crews and facilities to augment the Coast Guard and enhance safety and security of our ports, waterways, and coastal regions
To support Coast Guard operational, administrative, and logistical requirements
The Coast Guard Auxiliary Core Values
Honor
– Integrity is our standard. We demonstrate uncompromising ethical conduct and moral behavior in all of our personal and organizational actions. We are loyal and accountable to the public trust.
Respect – We value our diverse membership. We treat each other and those we serve with fairness, dignity, respect, and compassion. We encourage individual opportunity and growth. We encourage creativity through empowerment. We work as a team.
Devotion to Duty – We are volunteers who seek responsibility, accept accountability, and are committed to the successful achievement of our organizational goals. We exist to serve. We serve with pride.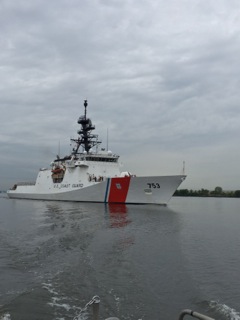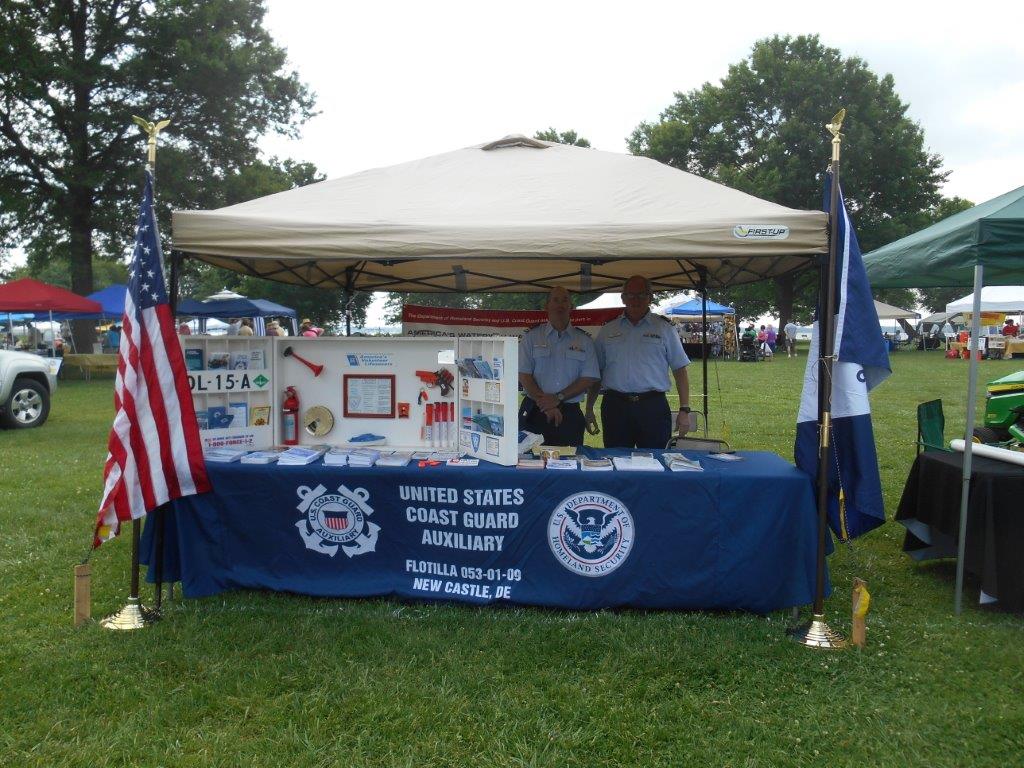 The Auxiliary's primary mission has always been and remains to assist the Coast Guard in its non-military and non-law enforcement missions. The Coast Guard Authorization Act of 1996 passed by Congress allows the Auxiliary to assist the Coast Guard, as authorized by the Commandant, in the performance of any Coast Guard function, duty, role, mission or operation authorized by law.
Flotilla 01-09 participates in Separation Day Celebration 2016
On June 15, 1776, the Colonial Assembly meeting at the Old State House in New Castle voted to declare the three counties of Delaware to be independent from Great Britain and separate from any ties with the William Penn family. This resulted in the formation of the new Delaware State and first among the original thirteen states.
Historic New Castle celebrates Separation Day on the second Saturday in June. The celebration includes numerous amusement rides, a parade, and an opportunity for the New Castle Flotilla 01-09 to participate with the community in celebration.
It was a perfect sunny day with moderate temperatures guaranteeing an excellent turnout for the event. Participants representing the flotilla are pictured below. Pictured below are Flotilla Commander Brian Lazarow and SO-PA Dave Clendening. Division Commander Don Merrill, Vice Commander Ken Pierce and Bill Turnbull participated in this event. Also assisting with the event were Henry Patchak and Kate Ealer. One of the USCG Patrol Boats participated in the Separation Day Parade this year and was supported by Division Commander Don Merrill, Newark Flotilla Commander Bill Turnbull and Rosanna Palermo.
The event was a great success and all the participants enjoyed meeting with the public and sharing the Coast Guard Auxiliary story. Several attendees showed an interest in joining the auxiliary and Information was collected for future contact.