Division 1 What's New!
Happy July 4th To All
A 4th of July Thank you
With the 4th of July celebrations upon us, most people's thoughts turn to getting together with family and friends, backyard barbeques and just plain good old fashion American fun. However, let us not forget what this celebration is about and continues to be. Were it not for our men and women in uniform, this day would not have existed, it would have gotten lost within all of the other days in the year. I am speaking not only about our military but the police, fire fighters, medical personnel and all who give of themselves to protect our way of life and believes. They are our fathers, mothers, brothers, sisters, sons, daughters, family, friends and neighbors.

I was reminded the other day, while driving home from work, of the personal sacrifices our men and women in uniform make every day to insure our personal freedom that we hold so dear. There was a young man driving his truck home from work I had guessed. As he passed me, there was a brief but sobering statement stenciled on his tailgate. It was one of those slogans we see a thousand times pasted on the bumpers of so many cars and trucks….but this one was different…. It read, "All have given some but some have given all". It was succinct, simple and to the point but spoke volumes of the sacrifice, the many men and women have given over our brief history to keep the rest of us free. Free to celebrate holidays with friends and family, free to speak out our beliefs no matter how unpopular they may be. Free to vote, free to move about freely, free to worship or not in any way we desire. In summary, free to be anyone we want.

However, one of the reasons I wrote this article was to recognize a small cadre of unselfish volunteers who give of themselves each day to help others in need and save lives. I am speaking of the men and women of the United States Coast Guard Auxiliary. As a recent member, I can speak first hand of the countless hours of training required to safely and proficiently carry out the duties that have been tasked to us by the U. S. Coast Guard. This group of professionals are highly trained and expert at what they do, from teaching boating safety, to safety vessel inspection and my favorite two, Search & Rescue and assisting distressed boaters in need. My fellow shipmates and I have spent countless hours and weekends away from family and friends to train and perfect the skills that are needed to keep safe, all those who venture out upon the water. Armed with this knowledge, our crews take to the water, patrolling our Area of Responsibility, ready to assist, without hesitation, both the pleasure boater and the commercial watermen who make their living on the water.

I will never forget the time, when returning home from an exhausting day out patrolling; my youngest daughter said to me, can we go to the beach this weekend? I reluctantly told her no but maybe next week we can. I sensed her disappointment as she gazed downward but explained that daddy was scheduled to go on patrol again this weekend. Then she said… why do you do it? I am sure all of us have had that question posed to us a one time or another. Without hesitation I said, "I do what I do so that others may live. So that other little girls and boys can safely enjoy their time on the water with their mommy's and daddy's and most importantly come back home safe." She stood for a moment, looked up at me and said, that's good, you should keep doing it and keep them safe. Those simple worlds made it all meaningful.

Therefore, the next time you see anyone in uniform be it their profession or simply as a volunteer, thank them for keeping all of us safe and secure.
Semper Paratus
Larry Horan, FSO, 053-01-08


USCG
Auxiliary, Division 053-01 held it's "Ready, Set, Wear-It" event at
the Cabela's Store in Newark, DE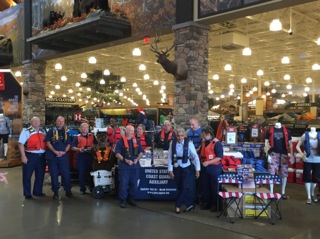 USCG Hamilton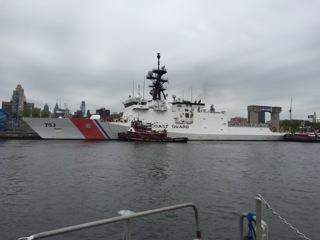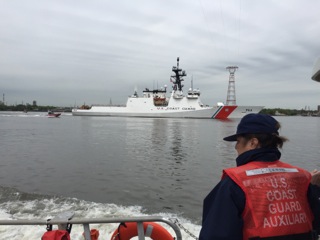 Auxiliarist from D5NR escorted the new USCG
Cutter Hamilton from Marcus Hook, PA to Penns Landing today. Kurt Sarac, and
his crew on the 41' UTB, skillfully transported 16 dignitaries from the shore
to a small landing platform of the new cutter while underway. The services of
the Auxiliary was called for a second time to retrieve the visitors and return
them later in the day due to a delay in finalizing the docking of the cutter.