Flotilla 25-6 What's New!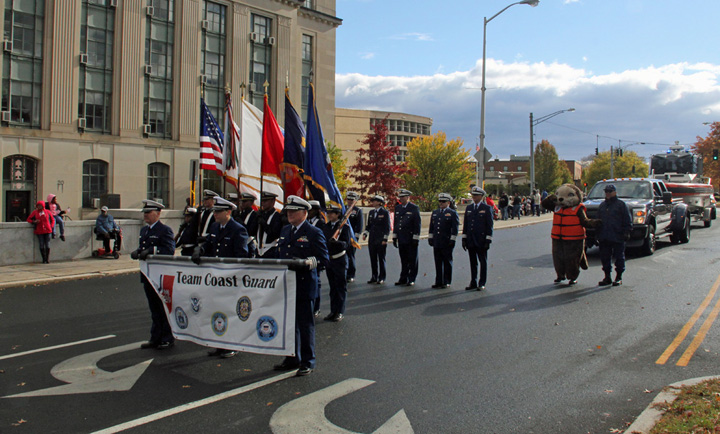 Leading the contingent of Team Coast Guard are Coast Guard Auxiliarists (from l to r) Richard Pummell, Neil Shilansky, and Bruce Buckley.
Team Coast Guard attends 2016 Veterans Day Parade Downtown Hartford.

Team Coast Guard was well represented at the 17th annual 2016 Veterans Day Parade in Hartford Connecticut. Auxiliarists from First District, Southern Region Divisions 24 and 25 led the contingent followed by the Coast Guard Academy Color Guard and several members from Coast Guard Stations New London and New Haven (including the Aids to Navigation Team).

Auxiliarist attending this year were Bill Bowen, 25-3, Bruce Buckley, 25-3, Kim Filion, 24-1, Richard Mihalcik, 24-12, John McLeod, 24-4, David Marriott, 25-6, Troy Clark, 25-3, Richard Pummell, 25-6, Neil Shilansky, 25-6, Kristina Carlson, 25-6, Stephen Morowsky, 25-4, and Bob Carlson, 25-6.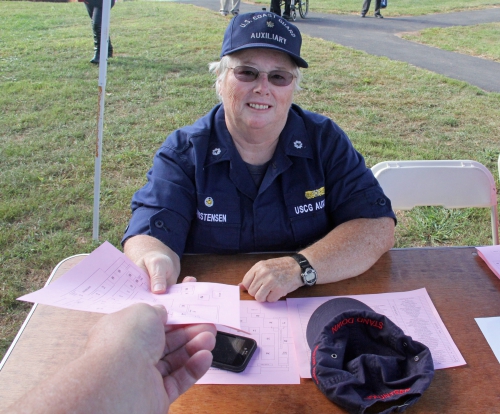 Rocky Hill, CT- Eileen Christensen, 014-25-06, hands photographer (Bob Carlson-014-25-06) a map of services at the at the State Veterans Home Campus, September 23, 2016.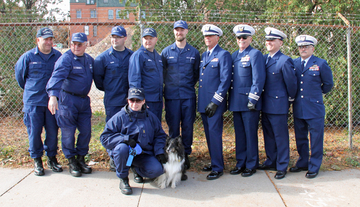 Auxiliarists lined up at the Veteran's Day Parade in Hartford, CT. An annual activity for the flotilla is marching in the Veteran's Day parade. It's a great time for fellowship within the Auxiliary, to interact within our communities and to pay respects to our country's veterans. We are looking forward to participating in the upcoming parade in 2014.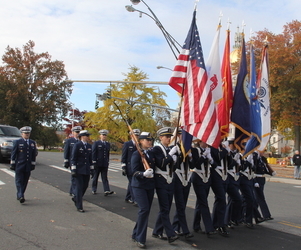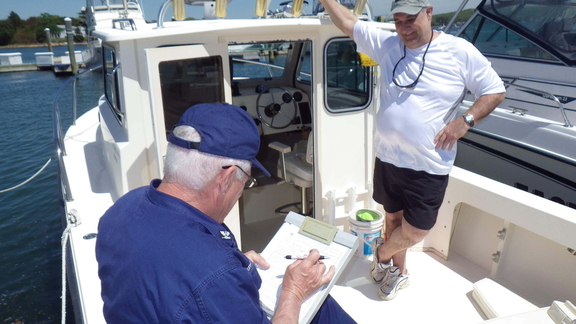 An Auxiliarist from flotilla 25-05 completes a vessel exam for a boater at Boat Inc. in Niantic. flotillas 25-05 and 25-06 worked together in celebration of National Safe Boating week in May 2014 offering vessel examinations (VEs) to all boaters. Over 25 inspections were done that day and Auxiliarists will return to the marina, Boats Inc., in July to continue inspections. If you would like to schedule a vessel safety check (VSC) for your own boat please follow the link in the sidebar or click on the link provided below.