Flotilla 25-4 Uniform Information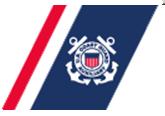 UNITED STATES COAST GUARD AUXILIARY
Taking Pride in Our Appearance,
And in Our Appearance,
Reflecting Our Pride.
Guide to Protocol and Courtesy for Auxiliary Units and Auxiliarists
Uniform Distribution Center
(800) 874-6841 or (609) 861-1221
The Uniform Distribution Center (UDC) is pleased to announce the opening of the online webstore. Members can now order all uniform items the UDC offers 24/7 from anywhere in the world.

The web store can be accessed through the UDC home page at:
US Coast Guard Uniform Distribution Center
From this site, click on the "Placing Orders" tab. From the menu bar, click on the "Shop Online" tab. Follow the link to the "Web Store" contained in the "Shop On-Line" paragraph. First time users will need to "Pre-Register" by completing a form to gain access. The link to this form is also contained in the "Shop On-Line" paragraph. Once processed, an e-mail will be sent to the member with a user name and password. All regular forms of payment are accepted from individual active duty, reserve and auxiliary members. At this time, unit and exchange orders cannot be processed through the web.
Shop Auxiliary
Coast Guard Auxiliary Association, Inc.
FAX 314-962-6804