Join the Coast Guard Auxiliary
The United States Coast Guard Auxiliary (America's Volunteer Lifesavers) is the non-law enforcement branch of the US Coast Guard under the Department of Homeland Security. We are always looking for "a few good men and women" to join our ranks.
The United States Coast Guard Auxiliary was established by Congress in 1939 to assist the Coast Guard in promoting boating safety. By law, "The purpose of the Auxiliary is to assist the Coast Guard as authorized by the Commandant in performing any Coast Guard function, power, duty, role mission, or operation authorized by law." It boasts more than 34,000 members from all walks of life who receive special training so that they may be a functional part of Coast Guard Forces. Auxiliarists assist the Coast Guard in non-law enforcement programs such as public education, vessel safety checks, safety patrols, search and rescue, maritime domain awareness and environmental protection and Coast Guard Academy Admissions Partner Program. Auxiliarists volunteer more than 2 million hours annually to benefit other boaters and their families and in support of the US Coast Guard.
We are Flotilla 10-13 in Coast Guard District 1SR. Our AOR (Area of Responsibility) and where we regularly patrol is Greenwood Lake and the Hudson River from the Bear Mountain bridge south to Tapenzee bridge and on to New York harbor. Some of the locations where we teach boating classes; West Milford/Hewitt, Wayne, Englewood, Ramsey, Ridgewood, Wyckoff.
Want to become active in one of the larger and certainly one of the most active Flotillas in the nation? Stop by our monthly meeting and learn more, no obligation. We meet at the Larkin House in Wyckoff, NJ the second Tuesday of every month. The Larkin House is at 380 Goodwin Ave in Wyckoff

Directions: 208 south to Ewing Ave exit. Turn left at end of exit ramp. Got to first traffic light turn right. Go to next traffic light (Wyckoff Ave) turn left. Go to next light (Godwin Ave) turn right. Larkin House is a half block up on the left, number 380. Folks start arriving at 7:30, the meeting starts at 8:00pm and usually ends by 9:30.

From 208 north, turn right at end of exit ramp, follow directions above.


Eligibility - Membership is open to citizens of the United States, are 17 years of age or older. Facility (radio station, boat or aircraft) ownership is desirable but not mandatory. Membership is also open to all former members of any of the uniformed services and their reserve components.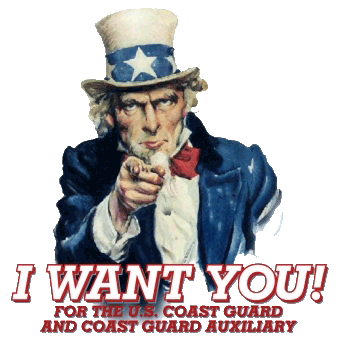 Want to join the US Coast Guard Auxiliary or see who we are and what we do click here to learn more.
Want to find a Flotilla near you click here to use our Flotilla Finder.