Marine Safety - Sea Partners Program
Sea Partners, a marine environmental protection outreach and education program, was established in 1994 and remains the only environmental public education program in the Coast Guard.
In 1997, the Coast Guard expanded the program to the Coast Guard Auxiliary, with Auxiliarists earning a Marine Environmental Educator qualification to prepare them to conduct Sea Partners events.
The Sayreville Flotilla operates the largest and most productive Sea Partners program in the nation with an annual average audience of ~ 10,000 persons.
The Sea Partners team consists of graduate/post-graduate specialists in environmental and mechanical engineering, environmental sciences in the area of biological and chemical specialties, aquatic safety, America's Waterway Watch, and professional educators.
Outreach education programs include youth groups, scouting groups, environmental clubs, primary and secondary education science classes. senior citizen groups, and large environmental fairs and symposia throughout Central and North Jersey, Staten Island, and New York City boroughs.
Here are some of the topics that are available for presentation at no cost:
Inky The Whale (endangered species and pollution for early elementary grades, Cub Scouts, and Brownies)
An Introduction to Marine Pollution and Oil Spills (Fifth grade and older. Consists of demonstrations and hands-on experiments)
Earth-Water- and Us: (Our global water resources and drinking water. Dwindling fresh water supplies and potable water shortages. Adult groups.
Plastic pollution and the aquatic environment (all audiences)
The Sciences of Our Marine Environment (high school & college groups)
Environmental Pollution and Recreational Boating
An Introduction To Environmental Law (college audiences & community environmental groups)
The Sea Partners Team also participates in large environmental shows, festivals, and fairs & providing an interactive display of environmental issues and pollution.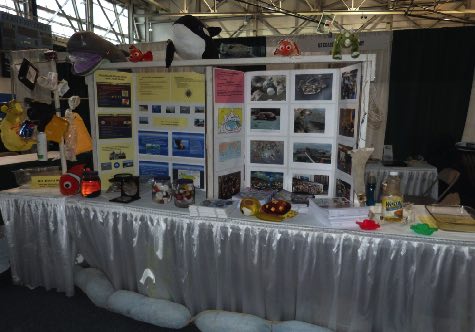 For further information, please contact Matthew Leahey at (732) 442-6600