Flotilla 1-6 Uniform Information
_____________________________________________________________

Stocked with nearly all items for composing a uniform. Members order directly from this source.

District material stores provided on-line. Use your AuxDirectory username and password to log on.
Flight Suit Nametags

Select 'Flight Suit Nametag $6.00'
Select Black background, Silver lettering
Select 'USCG Auxiliary' Â (Use scroll down menu)
Type First and Last Name
In comments box add:
* For Pilots or Observers: USCG Auxiliary Pilot Wings
* For all: Must spell out the word 'Auxiliary'
Wings and Things can be reached at 850-455-3081
Plastic Nameplates

Flight Suits

A full service uniform company.
Ultra Thin magnets allow you to attach ribbons to your shirt without poking holes.
Formerly District 7 Store

AUXILIARY LINK DISCLAIMER NOTICE/DISCLAIMER Links to non-Coast Guard entities are not under the control of the United States Coast Guard or the United States Coast Guard Auxiliary, and are provided for the convenience of our customers. They do not, in any way, constitute an endorsement of the linked pages or any commercial or private issues or products presented there. We cannot make any warranty or representation concerning the content of these sites, or secondary sites from the pages to which they link.
This illustration of the proper wear of patches, name tags and Auxiliary office insignia is from the Auxiliary Manual: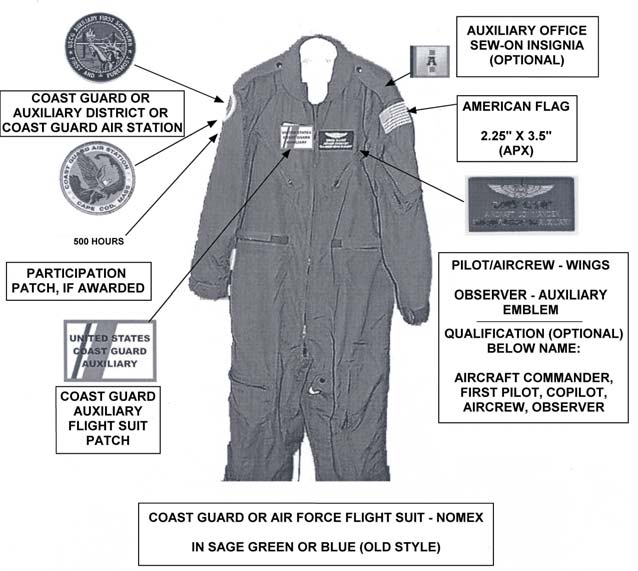 NOTE: The orientation of the "A" in the Auxiliary office insignia on the shoulder of the flight suit is incorrect in the above illustration. The "A" should be perpendicular to the long direction of the bar.
The following two photos show the correct design and placement of the insignia: