Courtesy Vessel Safety Checks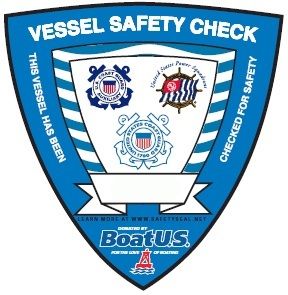 The U.S. Coast Guard Auxiliary Vessel Safety Check (VSC) is free and voluntary for owners of recreational vessels. The VSC helps to achieve compliance with federal, state and local recreational boating safety laws, particularly regarding the carriage of safety equipment. It heightens the boaters' awareness of safety issues through one-on-one contact with a U.S. Coast Guard Auxiliary certified vessel examiner.
Vessel Safety Checks can be conducted dockside, on land at a storage facility, at a launching ramp or on the vessel owner's property. A check usually takes 20-30 minutes, depending on the size of the boat. The vessel owner has an opportunity to discuss with a fellow boater the purpose of the marine safety equipment, to clarify various federal, state, and local boating requirements, to ask boating-related safety questions and to seek additional boater education. Some of the topics covered include Accident Reporting, Charts and Aids to Navigation, Safety Equipment, Fueling / Fuel Management, Environmental Concerns, Weather Conditions and Boating Safety Classes.
Vessels passing Safety Checks are awarded a U.S. Coast Guard Auxiliary Decal that informs the Coast Guard, Auxiliary, Harbor Patrol, Sheriff, Police, and other boating law enforcement and safety agencies that your boat was in full compliance with boating laws as of the date of the vessel examination. If your boat does not pass, no citation is issued by Auxiliary personnel and you are not "reported" to anyone. Rather, you are provided a written report on how to correct any discrepancies. Once in compliance, the vessel can then be re-examined.
Safety is the #1 reason to receive a Vessel Safety Check. The peace of mind that your boat meets required safety standards and that in an emergency, you will have the necessary equipment to save lives and summon help.