News of interest to boaters around New England
Auxiliarists Restore Sandy-Damaged Recycling Bins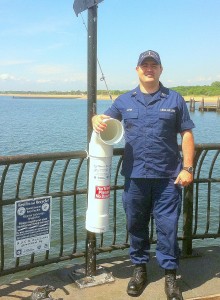 Auxiliarist George Lurye stands next to a newly installed storage bin at Midland Beach.
Staten Island, New York (Article By Auxiliarist James Chin) – U.S. Coast Guard Auxiliarists from Division 14, 1st Southern Region, have finished restoring a non-biodegradable fishing line recycling system after extensive damage from Hurricane Sandy.

The recycling system consists of specially designed three feet tall plastic storage bins mounted near fishing hotspots. Using these storage bins, anglers can recycle their used lines and nets instead of discarding them in the water. When Hurricane Sandy struck the shores of Staten Island, heavy winds and waves tore recycling bins off their mounted posts. "Most bins were swept away, sometimes with the fences they were attached to," said Auxiliarist George Lurye, one of the recycling project managers. However, in December, after months of repair work, Division 14 members were able to fully restore the eight storage bin recycling system.

The line recycling project in Staten Island started in early 2011 with project leaders Auxiliarists Dan Pontecorvo and George Lurye. Through a partnership with the Boat Owners Association of the United States (BoatUS), they received the fishing line recycling bins without cost as part of BoatUS' Reel in and Recycle Program. The Auxiliarists, in exchange, agreed that they would mount, monitor, and maintain the bins. Furthermore, they would have to mail out the discarded fishing lines and nets to the proper recycling facilities.

As Marine Safety and Environmental Protection personnel, Pontecorvo and Lurye had a keen desire to keep people and the environment safe. "Fishing is very big on Staten Island, and while boating we often noticed that these monofilament [plastic] lines were finding their way to our beaches, entangled on to our boat props and discarded in our waters," said Pontecorvo. "George and I found it easy going to the local marinas, explaining the important of helping saving our waterways and wildlife by just having these high visible bins close to fishing areas and with no cost to them."

Currently, the storage bins are located at Great Kills Park, Nichols Marina, Lemon Creek Pier, Midland Beach and Princess Bay Boatmen's Association in Staten Island, New York. In addition, the New York City Department of Parks and Recreation has informed the Auxiliarists that they would like to have the recycling system installed in three additional locations. As of December 2013, Division 14 has successfully recycled fifty three pounds of non biodegradable monofilament fishing lines and hooks.

According to Pontecorvo, "We hope that in the future, more of these fishing bins will be fully utilized and recognized by all fishing folks, thus saving our waters, wildlife, and swimmers." For Auxiliarists Pontecorvo and Lurye, that hope is likely to come true since even a Superstorm was not able to stop their efforts in supporting maritime and environmental safety.

[Source: http://live.cgaux.org/?p=3246 Coast Guard Auxiliary Live : The Official Blog of the U. S. Coast Guard Auxiliary]

=================================================================

Warming Ocean Temps Threaten Lobstering in District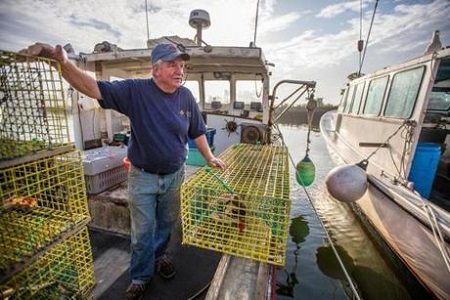 Bernie Feenie, owner of the Sandra Jean and President of the Massachusetts Lobstermen's Association)
The future is uncertain for lobster fishing south of Cape Cod, a top state fisheries biologist told a gathering of lobster fishermen at a conference last weekend.

"It will likely be poor for the foreseeable future," said Bob Glenn, a senior biologist with the state
Division of Marine Fisheries. He blamed rising water temperatures, not overfishing.

Mr. Glenn was one of several speakers at the Massachusetts Lobstermen's Association's held over the weekend at the SeaCrest Beach Hotel in Falmouth. Lobstermen from across the
commonwealth attended, including a small handful from the Vineyard. Mr. Glenn outlined a
lengthy report on the health of lobsters from the Gulf of Maine to waters south of the Vineyard. The report was compiled using data collected from fishermen, from survey work and computer modeling Dividing the area into three sectors, Mr. Glenn said the Gulf of Maine lobster fishery is holding its own, and he said the fishery east of Cape Cod is also healthy. But his tone changed when describing the lobster fishery south of Cape Cod.

"There are fewer and fewer fishermen," Mr. Glenn said. "There is very little fishing effort going on
compared to what it was historically . . . [but] those that are still fishing are catching reasonable rates."

Emerging data on spawning lobsters from Buzzard's Bay shows a troubling decline in numbers since 2008. With summer water temperatures on the rise, many of the juvenile lobsters will
not survive, Mr. Glenn said. As for inshore lobsters, "The stock has declined to almost be nonexistent levels," Mr. Glenn said. "There are some . . . south of Rhode Island."

He said lobsters become stressed in water temperatures above 68 degrees. Mr. Glenn said lobsters historically laid their eggs in Buzzards Bay in the summer months, and the juveniles would later on the rocky bottom inshore. But with water temperatures now above what lobsters can tolerate, instead of going into the bay, female lobsters are now laying their eggs farther south, off Noman's Land. And those eggs have zero chance of making their way into Buzzards Bay, the biologist said.

Other conference sessions covered a variety of topics. Bernie Feeney, president of the 51-year- old association, said the industry will need to adapt in order to remain financially viable. He led a brief forum on changes in the lobster industry. He operates a 40-foot lobster boat out of Boston Harbor (the Sandra Jean), and said he has fished since 1978 [photo above] With prices flat and the cost of doing business on the rise, he said it's tough to make a living from lobstering.

Dan McKiernan, deputy director of the state Division of Marine Fisheries, said fishermen who retire
their fishing licenses are surrendering the number of pots they can put out. Attrition, the number of lobstermen fishing, and the decline in licenses are expected to continue.
[source: Mark Alan Lovewell, The Vineyard Gazette]

USCG Breaking Ice on the Penobscot River
BANGOR, Maine — There wasn't any flooding, but there was a flood of people along the waterfront watching the show as two U.S. Coast Guard ice cutters tore through the frozen Penobscot River.

"It's like the Folk Festival," one woman said as she arrived with Saturday's noon high tide to find people with cameras lining the banks of the river.

"We just wanted to see the ice breakers," Orrington resident Chuck Wood said standing by his truck, with wife, Nancy, and 12-year-old granddaughter, Rebecca, watching from the warmth of the vehicle. "I think it's kind of neat."

The show was provided by two 65-foot ice breaking cutters, the Tackle from Rockland and the Bridle from Southwest Harbor, which took turns crashing into the thick ice to break a path to the ice-jammed Kenduskeag Stream.

"The city of Bangor requested some ice breaking assistance, and we felt working in tandem with the Tackle and Bridle would improve the efforts," said Command Duty Officer Kenneth Stuart of Coast Guard Sector Northern New England in Portland.

Read more at : BDN Maine

NOAA Coast Survey to Improve "Magenta Line"

The Office of Coast Survey announced today that future editions of nautical charts of the Intracoastal Waterway will be updated to include an improved "magenta line" that has historically aided navigation down the East Coast and around the Gulf Coast. Additionally, Coast Survey will change the magenta line's function, from the perceived "recommended route" established more than a hundred years ago, to an advisory directional guide that helps prevent boaters from going astray in the maze of channels that comprise the route.

The decision comes on the heels of a year's investigation into problems with the magenta line. In early 2013, after receiving reports of groundings by boaters who followed the line into shoals, Coast Survey started to remove the magenta line from Intracoastal Waterway nautical charts.

"We cannot deliberately include chart features that we know may pose a danger to navigation," explained Rear Admiral Gerd Glang, director of NOAA's Office of Coast Survey. "The problems of the magenta line's misplacement, which had been developing over the past seven decades, were aggravated when some boaters assumed that the line indicated a precise route through safe water – although it actually went over land, shoals, or obstructions."
Read More at: Coast Survey News Feed

Edgartown Light Transferred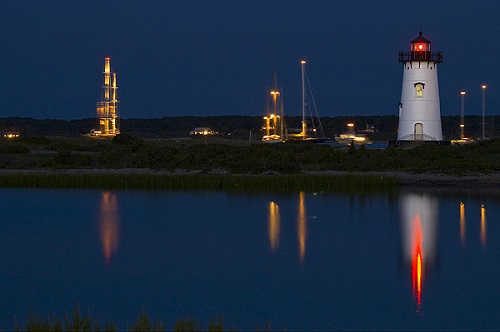 The Town of Edgartown has taken title to the picturesque light that has guarded its harbor on Martha's Vineyard since 1939.
Over the last several few years, the U.S. Coast Guard has been systematically decommissioning lights and lighthouses, and offering them for sale to the public, municipalities, and non-profit entities. As part of the National Historic Lighthouse Preservation Act, decommissioned lighthouses are offered at no cost to state or local governments, nonprofit organizations, and historic preservation groups. Among northeast area properties currently for sale are lights at Orient Point on the north fork of Long Island, NY;Penfield Reef, New Haven Ledge, and Saybrook
lights in Connecticut; and Graves Island Light Station in Outer Boston Harbor.

On Thursday, 09 JAN,The U.S. General Services Administration announced the transfer in ownership of the Edgartown Light to that Town.

"Lighthouses are an important part of our national and regional heritage," Robert Zarnetske, GSA regional administrator for New England, said in a press release. "Capable and passionate stewards like the Town of Edgartown help us ensure that these maritime treasures are preserved by assuming local control for their maintenance."

According the Vineyard Gazette, the process of acquiring the lighthouse was a long one: After
announcement that the lighthouse was surplus property in May 2012, the town signed off in January 2013 on an application to take stewardship of the beacon, and the official transfer came this week. The technical cost of the lighthouse transfer was $1.

At town meeting last April, voters supported acquiring the lighthouse. The Martha's Vineyard Museum serves as the keeper of the light, an arrangement the town plans to continue.

The first Edgartown lighthouse was built in 1828 and badly damaged in the Hurricane of '38. It was then replaced with the Essex Light from Ipswich, a cast iron light built in 1875, which was dismantled and shipped by barge to Edgartown. According to the General Services Administration, the light is a 45 foot tall conical tower of cast-iron construction with a granite foundation.
Source: Milburn Creek

from The Coast Guard Compass - The Official Blog of the U. S. Coast Guard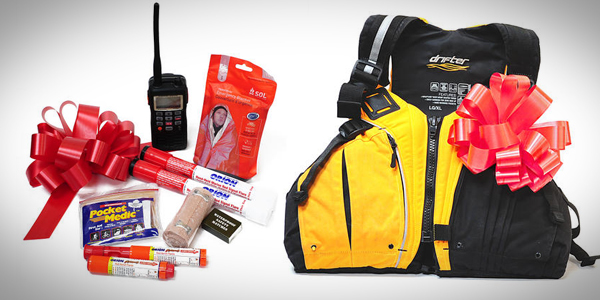 Top boating safety gifts for Cyber Monday
As one of the busiest online shopping days of the year, Cyber Monday is a great time to score some deals for those on your holiday gift lists, including your favorite boaters! From rescue flares to nautical charts, there are....
- Continue Reading at: http://coastguard.dodlive.mil/2013/12/top-boating-safety-gifts-for-cyber-monday/