Flotilla 9-3 Member Training
Flotilla 9-3 Auxiliarist employing a high-tech approach during Aids to Navigation Training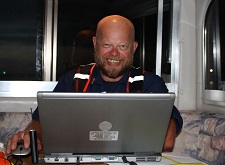 Throughout the Auxiliary, recruiting and training Members is a priority.
Auxiliarists may be qualified in a number of different areas depending on their interest, and they can continually pursue new training challenges. The opportunity to achieve higher levels of competency is one of the finest benefits of Auxiliary membership. YOU decide what interests you, and how much time YOU have to contribute towards Team Coast Guard's missions.
Training is available in many courses: Boat Crew, Coxswain, Air Crew, Vessel Examiner, Instructor, Aids to Navigation Verifier, Radio Watchstander, Historical Interpretive Guide at Boston Light, and Auxiliary Food Services are just a few examples.
Study and training in one of these specialty areas, followed by an examination, leads to QUALIFICATION in that area. Qualifications are then maintained by active participation in that specialty area. These are the same training materials and qualification requirements as those used in the active duty Coast Guard.

Whatever your interest, you will find a structured and comprehensive path to advancement as a qualified member of Team Coast Guard.
Training of Auxiliary members is accomplished in several ways:
- On-Line in self study programs or in "WEBEX" courses
- Group instruction in classroom settings
- Individual or small group hands-on training by qualified Auxiliarists
- Workshops and training sessions running from a few hours to several days
-"On the job" training alongside USCG active duty personnel
- "On the Water" training with qualified Auxiliarists and USCG personnel

Learning new skills, teaching others, sharpening existing skills, and taking pride in a mission well-done are all a part of being a U.S. Coast Guard Auxiliarist.

Members of Holyoke Flotilla 9-3 may train and serve as Historical Guides and Watchstanders at the Boston Light from spring through fall

...