Welcome to the Flotilla 9-3, District 1NR Web Site
"Finest Hours" opens in area theaters...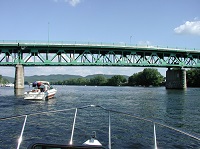 (Photo: Calvin Coolidge Memorial Bridge over the Connecticut River, Northampton and Hadley, Massachusetts)

Thank you for visiting the Flotilla 9-3 website. The Auxiliary is the uniformed, all-volunteer, civilian component of the United States Coast Guard, proudly serving our country and the boating public. Our activities take place on the ponds and rivers of much of western Massachusetts, particularly the Connecticut River and its tributaries - known locally as "The Pioneer Valley."

The 30-plus members of 9-3 assist the Coast Guard in making our waters safer for boaters through our public educational programs, vessel safety checks, and patrols. We also protect the safety of the boating public by periodically checking the area's aids to navigation and bridges, and participating in training sessions and service opportunities throughout New England.

We invite you to explore our website to learn more about the Auxiliary and our activities. If you are interested in taking a boating course or having a courtesy vessel examination, we are Semper Paratus - Always Ready - to assist you. If you would like to join us as a member of Team Coast Guard, we welcome you!
We meet on the third Tuesday of every month at 7 pm at the Holyoke War Memorial Building, at the corner of Maple and Appleton Streets, 2nd floor, in Holyoke,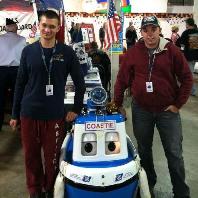 Auxiliarists Brandon Dumas (a/k/a "Sammy the Sea Otter") and Dave Rice bring smiles to young and old alike at Springfield's "Big E" and at local parades with a remote-controlled "Coastie"