Flotilla Commander's Message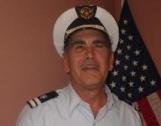 Flotilla 7-11 covers the entire east side of Narragansett Bay and Mt. Hope Bay from East Providence, Seekonk, Barrington, Warren, and Bristol all the way through Aquidneck Island, Tiverton, Little Compton, RI, Fall River, MA and points beyond.
With a great mixture of highly experienced and newly qualified Auxiliarists we are expanding our services supporting the Coast Guard in accomplishing the "Team Coast Guard" mission. We teach basic boating safety and seamanship skills to the general boating public. We are also involved in marine safety patrols and exciting new marine environmental protection programs, and search & rescue training missions. We also serve at stations and on CG Boats.
Other activities include conducting free vessel safety checks on recreational vessels of any size to ensure that they comply with all Federal and State requirements. We staff booths for many shows and public events with information on Recreational Boating Safety. Flotilla 7-11 is also involved with the "Coastie" Robot Boat, the unofficial mascot of the Auxiliary and one of only two in New England. We maintain, schedule, educate and entertain kids of all ages at many events around New England.
As volunteer members of the Auxiliary, founded by an Act of Congress in 1939, we are entitled to the same education and training available to members of the Coast Guard at no charge for tuition or books. Just check out the online links for the broad range of training activities possibilities.
Our programs are growing with the times; and the opportunities are endless and too numerous to list here. There is something for every area of interest. If you would like to find out more, please attend one of our monthly meetings or say hello if you see us at public events. In addition to our volunteer work, we also enjoy a time of fellowship and family fun at picnics, dinner meetings, and on-the-water activities.
I look forward to meeting you at one of our meetings. Come check us out, stay tuned, and see what we have to offer at the East Bays Flotilla.
Paul Duarte
Flotilla Commander
Flotilla 7-11
MEETING LOCATION
Meetings are held at 1930 on the second Wednesday of each month at the USCG ANT Station, 1 Thames Street, in Bristol, RI. New members and guests are always welcome