USCGAUX / Div 7 Publications
Thu, 18 Oct 18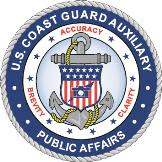 The "HURRICANE EDITION" of the 2018 NAVIGATOR EXPRESS
AVAILABLE NOW!
Just click on the link below to read stories titled:
Ready, Relevant, Responsive; "The Auxiliary Answers When Florence Comes To Call"

Interviews With Active Duty

Ready To Take Flight

Sector North Carolina Becomes BULLS EYE For Hurricane Florence
To read these and more stories, click on this link:
https://view.joomag.com/nav-ex-florence-edition-navex-3rd-qtr-2018-finala/0584695001538856100?short

---
Thu, 09 Aug 18

The current edition of the Nor'Easter -
the magazine by and for all members of First District Northern,
Maine, New Hampshire, Massachusetts and Rhode Island,
is available now. Click here to download (PDF file)
---
Wed, 21 Mar 18
The Benefits of Membership
The Magazine for Coast Guard Auxiliary Members

This quarterly publication serves two purposes:
Ready, 1-click access to products and services that are available to you on some preferential basis (varies by vendor); we intend to add to the portfolio – so, if you have suggestions, lob them in!

Articles of general use that help you enjoy being a member of the finest sea service on Earth – the US Coast Guard – as a US Coast Guard Auxiliarist.
Click here to read | First Quarter 2018
---
Recreational Boating Safety Newsletter
Fri, 12 May 17
The themes of this issue are Public Education and National Safe Boating Week: COMO Bob Shafer discusses the complex issues facing the future of the Auxiliary's boating education resources; availability and marketing of digital public education products; choosing and care of life jackets; COMO Dan Maxim, chair of the National Boating Safety Advisory Council (NBSAC), reflects on use of strategic planning to improve RBS outcomes; former CHDIRAUX Bill Griswold traces the 70-year history of NSBW; daily themes for NSBW; and, we welcome new CHDIRAUX Capt. Scott Johnson and say farewell to Capt. Tom Boross.
"RBS Job One" is published bimonthly on behalf of the RBS directorates: RBS Outreach (B), Public Education (E) and Vessel Exams & RBS Visits (V).
- Mel Borofsky, DVC-BR (Division Chief, Communications - RBS Outreach)
---