Vessel Safety Checks
EVEN EXPERIENCED BOATERS NEED A VESSEL SAFETY CHECK!
15 minutes could save your life and the life of your family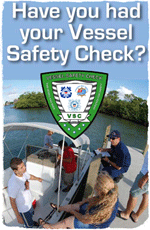 Th
e most cautious boaters can sometimes experience unexpected problems on the water. That's why the U.S. Coast Guard recommends that all recreational boaters; including personal watercraft and paddle sport users, take advantage of the free Vessel Safety Check program every year. With the more boat owners taking advantage of this service, most boating fatalities have been declining.
Unfortunately paddle sports have been on the increase, and are all the more reason for all types of watercraft to take advantage of these free services.
The Vessel Safety Check (VSC) is performed at your boat; whether in a slip, at the launch ramp, or in your driveway, by a certified Vessel Examiner at a mutually convenient time. The VSC usually takes 30 to 45 minutes depending upon the size of
your boat. If everything checks out, the owner will be given a decal to be placed on the vessel which states that it has passed a Vessel Safety Check.