Welcome to the Division 2, District 13 Web Site
Division 2 Of District 13
Division 2 is the smallest Division geographically in the District, covering most of King County - the greater Seattle/Bellevue metropolitan area. The Division's 170 members provide the boating public with boating safety education, vessel safety checks, and partnerships with the boating community.
Safe Boating Week: May 18th - 24th
See ou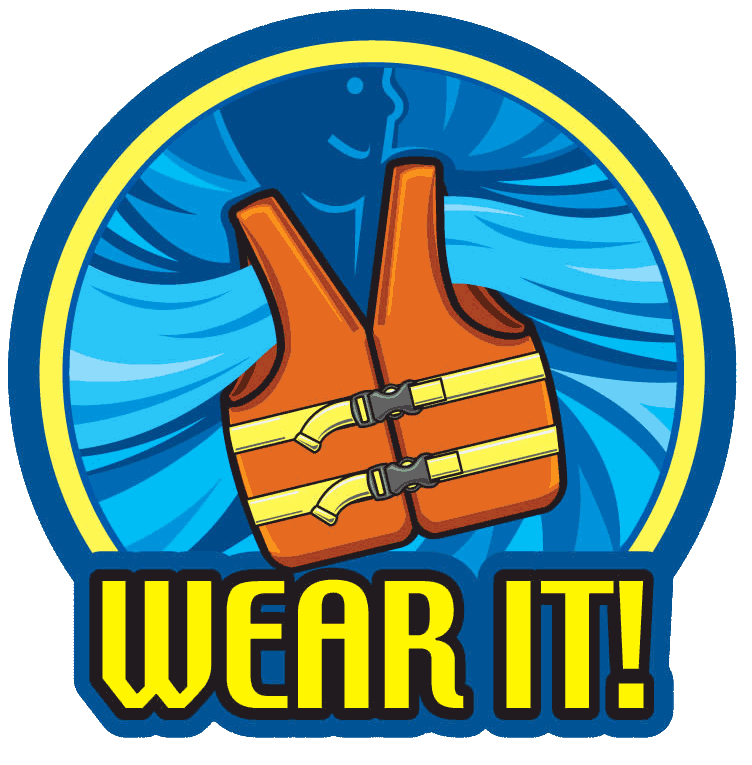 r 2013 Safe Boating Week page for more information!
The most recent statistics released by the U.S. Coast Guard indicate that 84 percent of boaters who drowned in 2011 were NOT wearing life jackets.

SEATTLE — As part of National Safe Boating Week, the U. S. Coast Guard Auxiliary conducted over 40 vessel safety checks at Elliott Bay Marina in Seattle on Saturday, May 18 2013.
Vessel safety checks are no-fault, courtesy examinations of your vessel, verifying the presence and condition of certain safety equipment required by state and federal regulations.
"Hundreds of boaters could be saved each year if they were only wearing life jackets," said Mr. Garrison Bromwell, Division Commander with the Coast Guard Auxiliary, District 13, Division 2. "A vessel safety check is a great way to make sure your boat meets federal and state requirements," said Bromwell.
To request a vessel safety check in the Seattle area, visit the Coast Guard Auxiliary's vessel safety check web page.

Farewell - Immediate Past Division Commander Craig Smith
For personal reasons, Immediate Past Division Commander is moving to Boise, Idaho. On Sunday, 12 May, several members who have worked with Craig over the years gathered with him at Salmon Bay Cafe (Craig's favorite breakfast/meeting place) to honor his many years of service to Division 2.


Flotilla 21 Commander Matt Kirchner prepared a video program of highlights from Craig's tenure with Division 2 which played during the breakfast. Most of the photographs were from Scott Dittberner of Flotilla 24. The video presentation will make the rounds of the Flotillas during the next month or two.
Commander Kent Chappelka, D13 DIRAUX presented Craig with the AUXILIARY COMMENDATION MEDAL. The Citation accompanying the medal reads: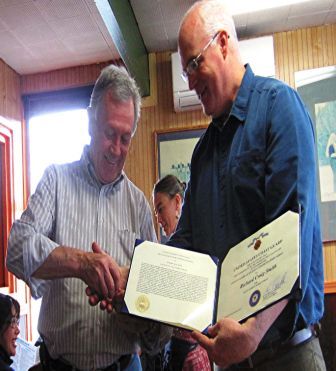 "Mr. SMITH is cited for outstanding achievement in the performance of duty while serving as a United States Coast Guard District Thirteen Division 2 member and leader from 2006 to 2013.
Under his leadership as Commander in 2011 to 2013 the Division had an impressive record. Despite challenges from continuing resolutions, Patrol Order Management shutdowns and national debt ceiling debates the Division under his guidance achieved over 700 vessel safety checks, 140 boater education classes, 6,900 operational mission hours and 40,000 other mission support hours.
In addition to these achievements Mr. SMITH used his knowledge of the Alki Point Lighthouse to be one of the Coast Guard's best ambassadors to over 14,000 visitors from 29 different countries who enjoyed tours of this iconic symbol of Seattle.
Mr. SMITH not only led from the top but from any position available as exemplified by his also serving as a Public Affairs Officer, Publications Officer, Vessel Examiner, Program Visitor, Instructor, Flotilla Vice Commander, Flotilla Commander and Vice Division Commander.
Mr. SMITH's peers consistently praised his enthusiasm and willingness to help in everything from offering rides to members without cars to taking any chance to assist shipmates improve their skills.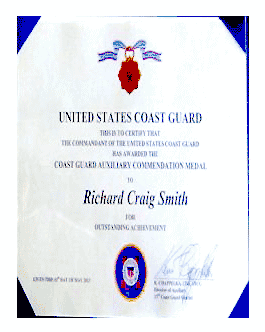 When the District Commander made $25,000 available for Auxiliary leadership training Mr. SMITH was key to the course's success by teaching time management for leaders to improve their effectiveness. The training was praised by all and scheduled for repeated delivery. Mr. SMITH used his legal expertise to deliver much appreciated continuing education to active duty lawyers. This training would have cost upwards of $1,500 in private industry. All these achievements were only possible with the investment of immense amounts of time beyond anything Mr. SMITH would ever ask recognition for. Mr. SMITH's dedication and devotion to duty are most heartily commended and are in keeping with the highest traditions of the United States Coast Guard and the United States Coast Guard Auxiliary."
---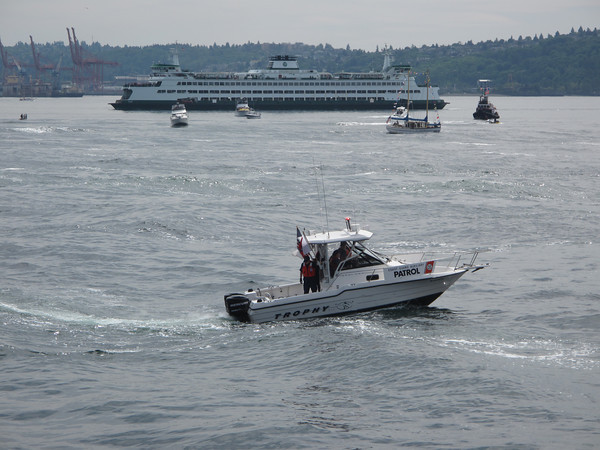 Maritime Week - Auxiliary on Patrol

Tammy King, Coxswain and owner, guides her Auxiliary Facility through some heavy wakes at the close of the unlimited class Tug Boat Races on 11 May 2013 in Elliott Bay. Two Auxiliary Facilities along with a Coast Guard 25' Defender Class boat provided security zone protection. Shoreside, Division 2 staffed a very successful public affairs booth along side of the Coast Guard's damage control trainer trailer, a Trailerable Aids to Navigation Boat (TANB) and a Defender Class Boat on a trailer.
Earlier in the week the Division also staffed a booth along side of Coast Guard Recruiting during the annual Maritime Career Day.
Photo by David Gunter, SO-PA
---
Boating Education Classes
Interested in taking a boating education class? Want to meet the requirements of the Washington Boater Education law, or just to find out more about boating safety or boating education in general? Check out our class offerings using this handy class finder.
Members--you can use the class finder if you are interested in helping teach, if you need a class to become Basically Qualified (BQ) or to meet the basic boating education requirements of the Boat Crew Program.
---
Vessel Safety Checks
Get a free Vessel Safety Check - a qualified Auxiliarst will check your boat for compliance with the applicable federal and state requirements in this free program. This isn't a law enforcement action - the examiner can't report any problems to law enforcement. Be safe, get a Vessel Safety Check and display the sticker proudly!
If you are in the Seattle area, fill out this form to request an appointment to have a local examiner contact you. If you are out of the Seattle area, use the national Vessel Examiner locator to find an examiner near you.
---
Division Commander's Goals:
At the planning meeting last December the Division Board discussed and agreed by consensus to a set of Division Goals. The most recent version are on the 3rd page of the DCDR's report to the District Board which is here.
But -- the DCDR has rendered those goals into what might be called a credo for the Division. We will:
Get people into our Boating Safety Classes

Get VSC stickers on the side of safe boats

Conduct absolutely safe operations with well trained crews

And Grow the Membership.
The entire focus of the Division Bridge, the Staff, and the members MUST be towards those goals. If we have time and energy remaining we'll do some of the other stuff because its fun to do but job one, in support of the Commandant of The Coast Guard is above. We have to have the infrastructure to support this (that's things like IS, HR, MT, FN etc.) but beyond those necessary ancillary functions we aren't going to spend a lot of time.
---
The advancement of boating safety is the primary goal and mission of the Coast Guard Auxiliary. You can find additional information About Us . You can also check out all of the activities throughout this and other Auxiliary web sites and Facebook pages.
Have fun, be safe, and think about joining us!