Welcome to the Flotilla 17-11, District 7 Web Site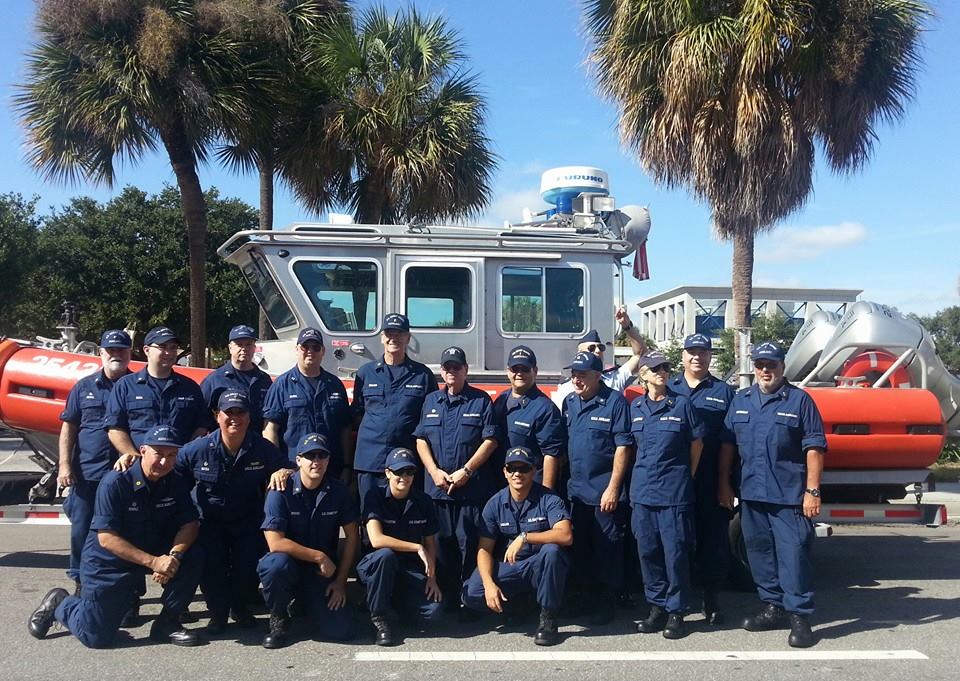 Flotilla 17-11 Orlando Winter Park
The U.S. Coast Guard Auxiliary is the uniformed, all-volunteer component of the United States Coast Guard. The Auxiliary was created by an Act of Congress in 1939, and has grown to over 32,000 members who daily support the Coast Guard in all its non-military, and non-law-enforcement missions. We have members and units in all 50 states, Puerto Rico, the Virgin Islands, American Samoa, and Guam.




Auxiliary members conduct safety patrols on local waterways, assist in Search and Rescue, teach boating safety classes, conduct free vessel safety checks for the public, provide boating safety literature to dealers, as well as many other activitiesrelated to recreational boating safety.




The Coast Guard considers the Auxiliary its primary resource for recreational boating safety outreach and prevention (see the message "From the Commandant"), and each Coast Guard district around the nation has established a senior officer and staff to provide tight liaison and coordination between the active-duty Coast Guard and the various Auxiliary units in that district.

And in many inland portions of the country, where the majority of U.S. recreational boating occurs on lakes and rivers, the Auxiliary is the sole Coast Guard presence!

But the Auxiliary is more than recreational boating safety; we regularly serve alongside our active-duty shipmates serving as communications watchstanders,uninspected passenger vessel inspectors, training resources for air and sea operations, numerous duties related to environmental protection and homeland security, and even as chefs! In fact, there are nearly two dozen "qualifications"open to Auxiliarists willing to put in the time and training. Collectively, Auxiliarists volunteer over 4.5 million hours per year and complete nearly 500,000 missions – a true force multiplier for the Coast Guard!




Membership in the Auxiliary is open to persons 17 years of age and older. We are organized into 16 districts nationwide, comprised of 171 divisions with approximately 980 flotillas. No matter where you live, there is a flotilla near you. Find the unit nearest your Zip Code by clicking on "Units" at the top of this page. And for dozens of reasons why you should join, visit "Recruiting". You will not be sorry!




PLEASE LEARN MORE ABOUT US BY EXPLORING OUR SITE. IT'S FOR EVERYONE!
Veterans Day
On the 11th hour, 11th day, 11th
month 1918, the Guns of August ceased its deadly delivery of death of four
years. Men lived and died in horrible ways unknown to mankind prior. Many died
with no one knowing where or when. Many were buried unceremoniously. There were many wars before that were
precursors. No one gave thought what these were leading up to a scale
unbelievable.
Veterans Day is now an official holiday of the United
States. It is observed annually on November 11. It honors all military veterans who
served in the United States
Armed Forces. In other
countries who fought in World War 1 it is called Armistice Day and Remembrance Day. It was called Armistice Day until was
renamed Veterans Day in 1954.
This day is not to be confused
with Memorial Day celebrated in May. Memorial Day honors
those who died while in military service. It is also not to be confused
with Armed Forces Day also celebrated in May, which specifically
honors those currently serving in the U.S. military Memorial Day is a
public Holiday while Armed Forces Day is not.
A year to the date of the end of
hostilities in World War 1, President Woodrow Wilson issued a message to his countrymen on the first Armistice Day.
The White House, November 11,
1919.
A year ago today our enemies laid down
their arms in accordance with an armistice which rendered them impotent to renew
hostilities, and gave to the world an assured opportunity to reconstruct its
shattered order and to work out in peace a new and just set of international
relations. The soldiers and people of the European Allies had fought and
endured for more than four years to uphold the barrier of civilization against
the aggressions of armed force. We ourselves had been in the conflict something
more than a year and a half. With splendid forgetfulness of mere personal
concerns, we remodeled our industries, concentrated our financial resources,
increased our agricultural output, and assembled a great army, so that at the
last our power was a decisive factor in the victory. We were able to bring the
vast resources, material and moral, of a great and free people to the
assistance of our associates in Europe who had suffered and sacrificed without
limit in the cause for which we fought. Out of this victory there arose new
possibilities of political freedom and economic concert. The war showed us the
strength of great nations acting together for high purposes, and the victory of
arms foretells the enduring conquests which can be made in peace when nations
act justly and in furtherance of the common interests of men. To us in America
the reflections of Armistice Day will be filled with - solemn pride in the
heroism of those who died in the country's service, and with gratitude for the
victory, both because of the thing from which it has freed us and because of
the opportunity it has given America to show her sympathy with peace and
justice in the councils of nations.
WOODROW WILSON[2]
On June 4, 1926,
the United States Congress adopted a resolution, requesting that President Calvin Coolidge issue annual proclamations calling for the observance of
November 11 with appropriate ceremonies. A Congressional Act (52 Stat. 351; 5
U.S. Code, Sec. 87a) approved on May 13, 1938, made the 11th of November in
each year a legal holiday: "a day to be dedicated to the cause of world
peace and to be thereafter celebrated and known as 'Armistice Day'
In 1945, Alabama
World War II veteran Raymond Weeks proposed to then General Dwight
Eisenhower that Armistice Day be a day of celebration for all veterans, not
just those who died in World War I. With General Dwight Eisenhower support the idea of
National Veterans Day took shape.
In 1947, the
first national celebration was led by Weeks and annually until his death in
1985. In 1982, President Reagan at the White House presented Week with the
presentation of the Presidential Citizenship Medal. Secretary Elizabeth Dole,
who prepared the briefing for President Reagan, determined Weeks as the
"Father of Veterans Day."
U.S.
Representative Ed Rees, (Emporia, Kansas) presented a bill establishing the holiday through
Congress. Now President, Dwight D.
Eisenhower, also from
Kansas, signed the bill into law on May 26, 1954. However, for eight and a half
years Weeks was holding his own Armistice Day celebration for all veterans.
Congress
amended the bill on June 1, 1954, replacing "Armistice" with
"Veterans".
As a side note,
the National Veterans Award was also created in 1954. Congressman Rees of
Kansas received the first National Veterans Award in Birmingham, Alabama, for
his support offering legislation to make Veterans Day a federal holiday.
For a short
period of time, Veteran Day was celebrated on the fourth Monday of October (Oct
25, 1971; Oct 23, 1972; Oct 22, 1973; Oct 28, 1974; Oct 27, 1975; Oct 25, 1976
and Oct 24, 1977). In 1978, it was moved back to its original celebration on
November 11. Should November 11 fall on a Sunday, it is celebrated the next
day, Monday.
Submitted by
Anthony Wong, DDS, FSO-MT, 17-11, D7