Welcome to the Flotilla 20-2, District 5SR Web Site
ABOUT OUR FLOTILLA http://uscgauxmoreheadcity.org
Telephone: (252) 499-2431 Email: uscgauxmoreheadcity@gmail.com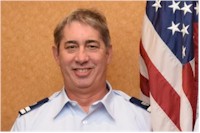 Flotilla 20-02 in Morehead City, North Carolina supports boaters operating around the northern end of Bogue Banks and operations at Coast Guard Station - Fort Macon, NC.

Our Flotilla's next meeting will be Thursday, November 1, commencing at 1830 hours or 6:30 pm at Station Fort Macon, Atlantic Beach, NC. We will be voting for a new FC and VFC. Please bring a government-issued photo ID.

This past June, Bill Mauney, FSO-MT presented a lecture on Environmental Stressors and Hot Weather. Everyone present had a least one take-a-way. Watch this 11-minute video and discover your take-a-ways. If you're going to be at the helm CLICK HERE.

Another video from Mauney could also save your life, the life of others and at the very least, property damage. Mauney expresses his feelings - "Driving while distracted, we've all seen it. It happens not just with vehicle drivers but with vessel skippers as well. Some good lessons here. The skipper was preoccupied with his cell phone according to a passenger. The victims learned the importance of wearing a life jacket. Lawsuits are costly." Click Here for Video.
Dave Tolley, our Publications Staff Officer points out, "Incredible teaching video (above) to empathize with how important it is to be in command of your boat always. Item number 8 on our Vessel checklist might have helped divert the collision." Please check our Calendar for upcoming FREE Vessel Safety checks coming to a marina near you!
WHAT DOES OUR FLOTILLA DO?
• Conducts safety patrols on our local waterways in conjunction with our neighboring Flotillas.
• Provides support to the Coast Guard at Fort Macon facilities.
• Performs free vessel safety checks.
• Teaches public boating safety classes.
• Assists the USCG with homeland security duties.
• Conducts safety patrols that provide assistance to boaters in distress.
• Performs search and rescue missions.
• Provides perimeter security for regattas and other marine events.
• Supports transport missions (personnel and supplies) during natural disasters.
• Verification of Aids to Navigation and ATON checks after severe storms.
• Pollution and environmental patrols to check waterways, ramps and related problems.
NEWS to KNOW

Active Advisories and Notices
There are numerous changes in ATON reported in our area, as well as large shifting of bottom depths due to Hurricane Florence.
BEAUFORT INLET AND SOUTHERN CORE SOUND(CHART 11545) Posted 10/18/18
BEAUFORT HARBOR CHANNEL LIGHTED BUOY 3 (LLNR 34815) OFF STATION.
DISASTER RESPONSE COALITION INSTRUCTIONS
There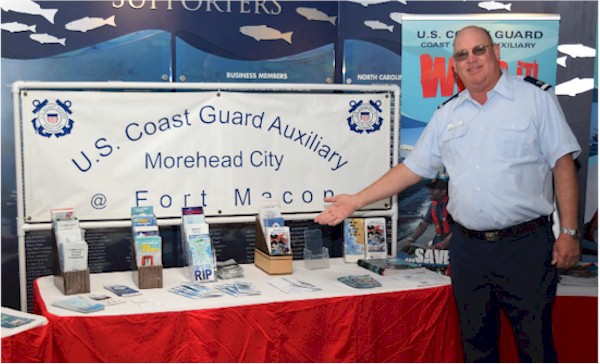 Gene Speed, FSO-PA at The NC Aquarium in Pine Knoll Shores, March 2018. Photo: Dave Tolley, FSO-PB

The Coast Guard considers the Auxiliary its primary resource for recreational boating safety outreach and prevention, and each Coast Guard district around the nation has established a senior officer and staff to provide tight liaison and coordination between the active-duty Coast Guard and the various Auxiliary units in that district.

Membership in the Auxiliary is open to persons 17 years of age and older. We hope you'll come to one of our meetings or call us. To contact us and find our flotilla meeting times and location go to Meeting Schedule in the left menu.

LEARN MORE ABOUT US BY EXPLORING OUR SITE. IT'S FOR EVERYONE. WELCOME ABOARD!
Dave Tolley, FSO-PB has requested that we send photos with captions of Auxiliary missions (events) to him, so they can be memorized in the Compass newsletter.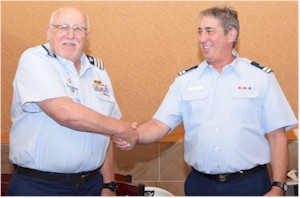 Photos
top: Phil Amanna, Flotilla Commander photo by Dave Tolley, FSO-PB
middle: Gene Speed, FSO-PA at an event at the NC Aquarium. --Photo by Dave Tolley
bottom: Immediate Past Flotilla Commander Rister (L) with Flotilla Commander Amanna --Photo by Dave Tolley